Spinach and paneer wrap with mushrooms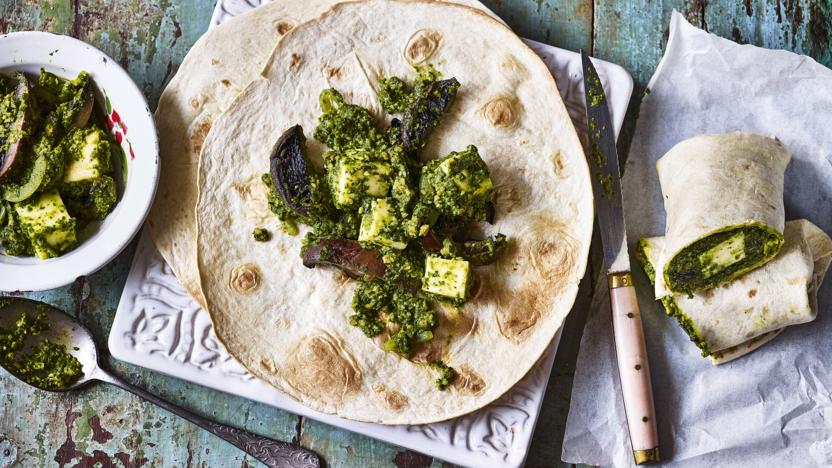 If you can't be bothered to make all the bits, this spinach and paneer wrap works well without the mushrooms. I sometimes make this with tofu when I have some lying around.

Ingredients
For the spinach paste
For the tandoori mushrooms
For the paneer
To serve
Method
For the spinach paste, place all the spinach paste ingredients into a blender and blend until smooth.

For the tandoori mushrooms, place all the ingredients except the mushrooms into a blender and blend to a smooth paste. Add the mushrooms to the paste and leave to marinate for 20 minutes.

Preheat the oven to 200C/400F/Gas 6.

For the paneer, heat the oil in a large non-stick pan. Add the spinach paste and the water and cook over a medium heat for 8-10 minutes, or until the paste starts to thicken. Add the paneer and the onion and cook for another minute, or until the onion just starts to soften.

Meanwhile, thread the marinated mushrooms onto skewers, place onto an oiled baking sheet and transfer to the oven. Bake for 20 minutes, turning halfway through the cooking time. Once cooked, add the mushrooms to the paneer mixture.

To serve, divide the filling into five portions and place each portion onto a warmed tortilla. Roll up and cut on the diagonal.
Recipe Tips
You can use a stick blender to puree the spinach.
This recipe is from...
Recipes from this episode