Pancetta beef burger with tarragon mayonnaise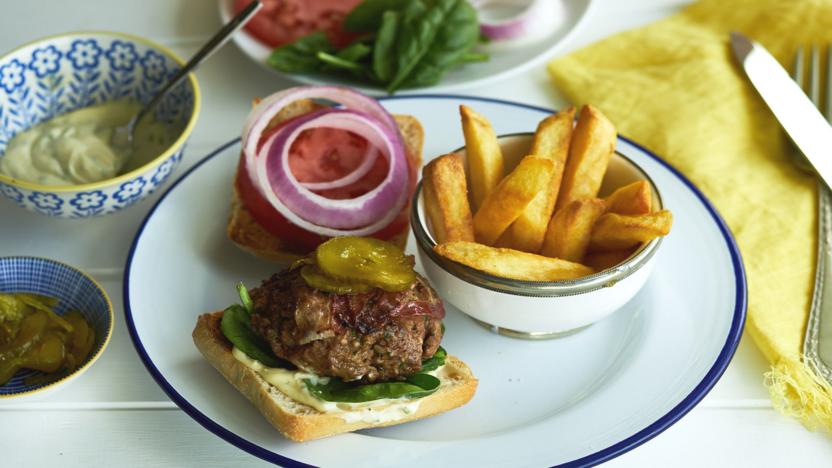 How do you make burgers taste even better? Add pancetta to the mix. Top with tarragon mayonnaise for a burger that is sure to impress.
Ingredients
For the burger
For the tarragon mayonnaise
To serve
Method
Put the breadcrumbs and milk in a bowl, mix and set aside for 5 minutes, or until the milk is absorbed. Add the mince, garlic, tomato purée, Worcestershire sauce and parsley, season with salt and pepper and mix well.

Shape the mixture into six large, flat patties. Place a slice of pancetta on both sides of each patty. Heat a large frying pan over a high heat. Add the patties and cook, in batches, for 4 minutes on each side, or until the pancetta is cooked and the burgers are done to your liking.

For the tarragon mayonnaise, put the mayonnaise, mustard and tarragon in a bowl and mix. Set aside.

Preheat the grill to high, then toast the rolls. Spread them with the tarragon mayonnaise and top with the spinach, patties, caramelised onion rellish and Cheddar. Serve with the gherkins.
Recipe Tips
These burgers also taste great cooked on the barbeque.