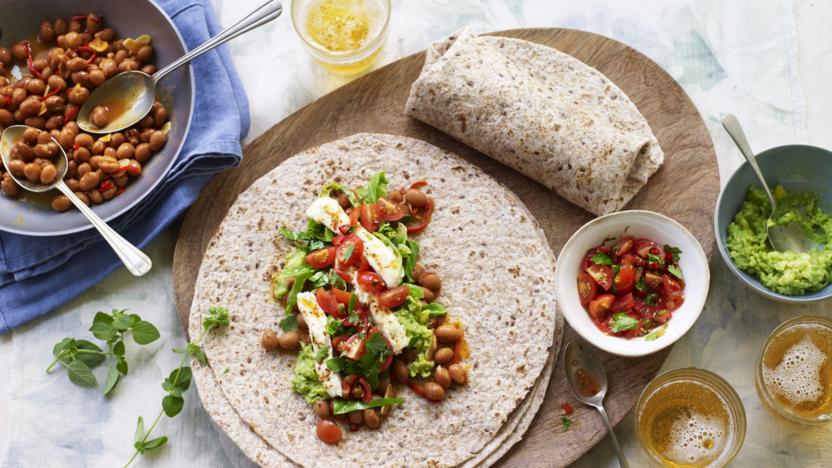 These vegetarian burritos are a dream to make and eat. It's one of those glorious things that manages to balance hearty with fresh, spicy with sharp, smoky with sweet. If you chose to use tofu, this recipe makes vegan burritos.

Each serving provides 529 kcal, 20g protein, 49g carbohydrate (of which 5g sugars), 25g fat (of which 12g saturates), 12g fibre and 2.4g salt.
Method
Put the garlic and chilli in a medium frying pan with a little coconut oil. Cook until starting to brown, then add the smoked paprika, borlotti beans with their liquid and the juice of one lime and let it blip away for 10 minutes to heat through.

Mix the tomatoes with the juice of half a lime and the coriander. Mash the avocados with the juice of the other lime half.

Sprinkle the zest of one lime over the feta or tofu and scatter over a couple of large pinches of chilli flakes. Put the remaining coconut oil into a large frying pan and fry the feta or tofu for 3 minutes each side, until just brown, being careful not to move it too much otherwise it will break up.

Once the feta or tofu is browned on both sides, remove and keep warm. Add the spring greens and oregano to the same pan, with a little more oil if needed, and add the remaining lime zest, another good pinch of chilli flakes and 2 tablespoons water. Cook until the water has evaporated and the greens are starting to crisp.

Wrap a little bit of everything up in the tortillas and serve.
Recipe Tips
I don't like rice in my burrito – to me it's a filler. I'd rather pack it full of flash-fried chilli greens, avocado and smoky lime-spiked beans, but if you are particularly hungry then a scattering of cooked brown rice or quinoa would work here.