Salmon served with sautéed leeks and a dill crumb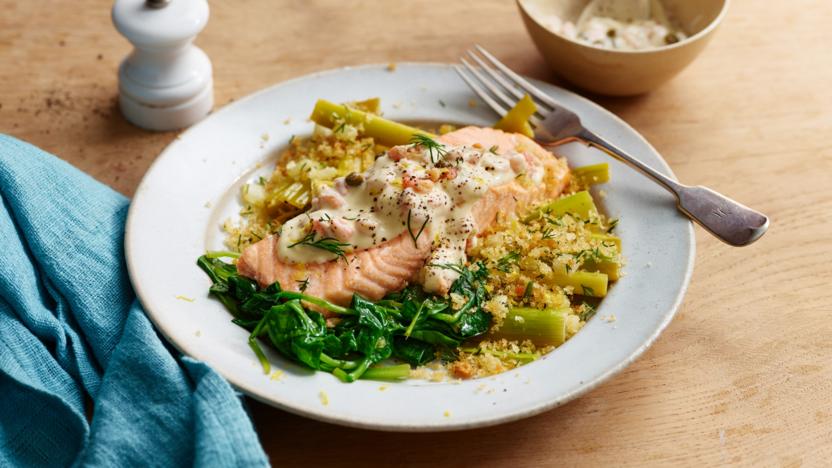 Preparation time
less than 30 mins
Cooking time
10 to 30 mins
Hollandaise made with browned butter, shrimp and capers makes a delicious sauce to serve with this easy salmon supper.
Preparation time
less than 30 mins
Cooking time
10 to 30 mins
Ingredients
For the leeks
For the dill crumb
For the salmon
For the brown butter shrimp hollandaise
Method
For the leeks, heat the butter in a medium non-stick frying pan. Add the leeks and cook for 4-5 minutes, turning regularly until deep golden-brown.

Add the wine, season with salt and pepper, and bring to a simmer. Cover the pan with a lid or aluminium foil and simmer for 3–4 minutes or until the leeks are tender and the liquid has evaporated (add a little water if the wine evaporates before the leeks are softened). Season with salt and pepper and keep warm until ready to serve.

Meanwhile, make the dill crumb. Blitz the bread in the food processor to give fine breadcrumbs. Heat the oil in a large non-stick frying pan and add the onion. Fry gently for about 3 minutes, or until the onion is softened, stirring regularly. Add the breadcrumbs and cook for 5 minutes more, or until the breadcrumbs have turned golden-brown. Add the dill and lemon zest and cook for a few seconds more, stirring. Add a little pinch of sea salt flakes and set aside until needed.

For the salmon, put the spinach in a medium saucepan along with the finely grated zest of the lemon, 2 tablespoons cold water and a little salt and pepper. Heat, stirring all the time, until wilted. Place in a sieve and squeeze out the excess liquid. Return to the pan and keep warm.

Heat the oil in a clean frying pan and fry the salmon for 1½–2 minutes on each side, depending on thickness, or until cooked to your liking. Leave to rest in the pan until ready to serve.

Make the hollandaise sauce while the salmon is cooking. Put the egg yolk and vinegar in a small food processor and blend until pale. Melt the butter in a saucepan and when it becomes foamy and turns a pale golden colour, add the hot butter in a thin stream to the food processor, with the motor running. Once the hollandaise is thickened and glossy, transfer to a bowl and add the capers and shrimps. Season to taste.

Divide the cooked leeks between two warmed plates and sprinkle over the dill crumbs. Put heaps of spinach beside the leeks and top with the salmon. Spoon over the shrimp hollandaise and serve.
Related Recipes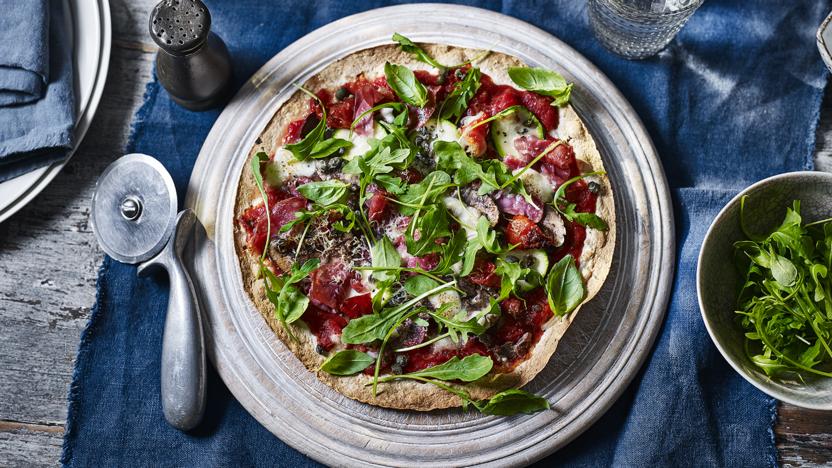 See more Recipes for the confident cook for 1-2 recipes (10)