Pan-fried pear salad with pancetta, gorgonzola and a warm dressing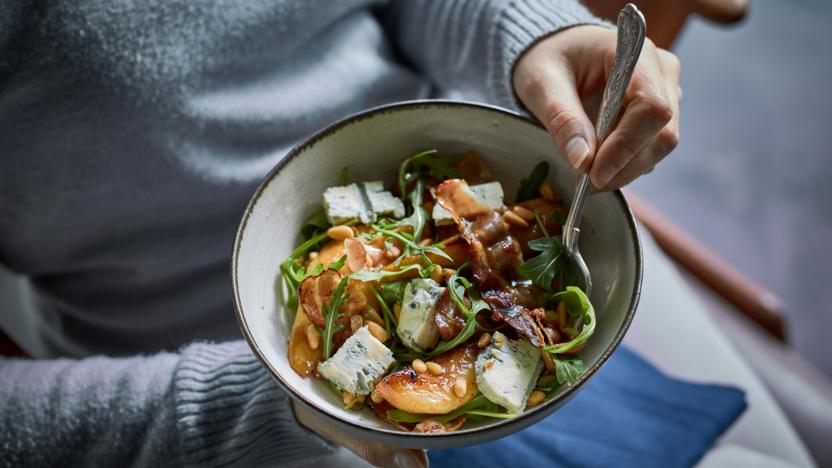 Preparation time
less than 30 mins
Cooking time
less than 10 mins
I just love a good salad recipe. When it is cold outside, having a substantial salad with a warm dressing really is just the ticket.


Preparation time
less than 30 mins
Cooking time
less than 10 mins
Method
Distribute the rocket evenly among four serving plates.

Heat a frying pan and toast the pine nuts for three minutes, or until golden-brown. Remove the nuts from the frying pan.

Heat the pancetta in a frying pan over a medium heat and cook until crispy. Remove and set aside to drain on kitchen paper.

Place a knob of butter and the oil into a clean frying pan set over a low heat. Once the butter melts, add the pears, salt, pepper and honey. Turn up the heat and cook for a further five minutes.

Add the balsamic vinegar and cook for another minute, then take the pan off the heat. Remove the pears from the pan, reserving any juice that may be left.

Arrange the pears and pancetta on top of the rocket leaves so each person has four quarters each.

For the dressing, put the pan containing the pear juices back on the heat and add the remaining knob of butter, a dash of honey, the mustard, salt and pepper and the pine nuts. Cook the mixture until warmed through.

Pour the dressing over the pears and the rocket. Scatter over the gorgonzola and serve.
Related Recipes
See more warm salad recipes (37)
See more pear recipes (127)
This recipe is from...
Recipes from this episode