Oven-fried chilli chicken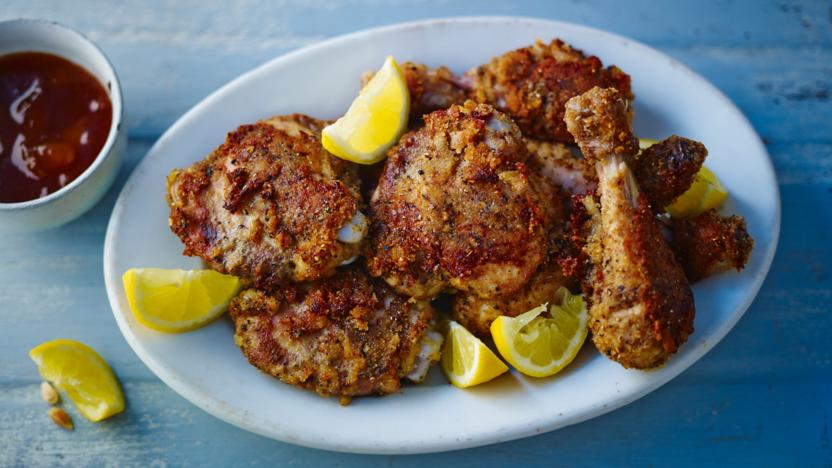 Preparation time
overnight
Cooking time
30 mins to 1 hour
Lightly spiced, crispy chicken pieces baked in the oven, rather than fried, to reduce those pesky calories.

Preparation time
overnight
Cooking time
30 mins to 1 hour
Ingredients
For the marinade
For the chicken
800g/1lb 12oz chicken pieces, skinned and pricked all over with a fork
3 tbsp vegetable oil
¼ tsp salt
¼ tsp freshly ground black pepper
½ tsp ground cumin
4 slices white bread, processed to crumbs in a food processor
1-2 large free-range eggs, beaten
1 lemon, to serve
Method
For the marinade, combine all the marinade ingredients in a pestle and mortar and mix well to make a paste. Add the chicken and coat each piece well in the paste. Cover with cling film and leave for a couple of hours or overnight in the fridge. Bring back to room temperature before continuing.

Preheat the oven to 225C/215C Fan/Gas 7.

Pour the oil into a roasting pan large enough to hold all the chicken pieces in one layer. Place the pan on a high shelf in the oven for 15 minutes to heat up.

Mix the salt, black pepper and cumin into the breadcrumbs. Take the chicken out of the marinade, letting the excess drip off and roll each piece in the crumbs ensuring an even coating on all sides.

Dip the chicken pieces into the beaten egg and add a second coating of crumbs. Place them on the baking sheet and cook for 20 minutes. Then lower the oven to 200C/200C Fan/Gas 6, turn the chicken and cook for another 15-25 minutes (depending on the size of the chicken pieces), or until cooked through.

Place on a serving dish, cut the lemon into wedges and serve.
Related Recipes
See more fried chicken recipes (23)
See more chicken recipes (266)
This recipe is from...
Recipes from this episode