Oven-baked risotto carbonara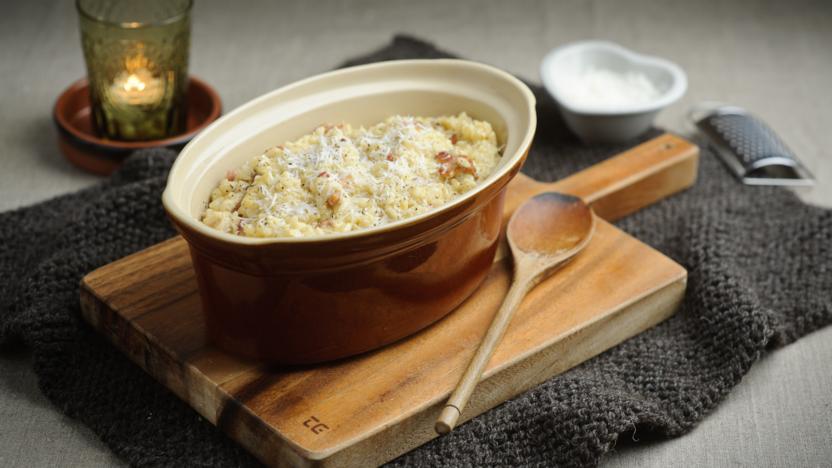 Preparation time
less than 30 mins
Cooking time
30 mins to 1 hour
Forget standing over the stove stirring for twenty minutes. This risotto cooks happily in the oven, leaving you free for other things.
Method
Pre-heat the oven to 150C/300F/Gas 2.

First of all, in a large, hot frying pan over a medium heat, fry the pancetta or bacon in its own fat for 4-5 minutes, until it's crisp and golden, then remove it to a plate. Next add the butter to the pan, then the onion, turn the heat down to gentle and let the onion soften in the butter for about 5 minutes. Meanwhile, heat the stock in a small saucepan. Then return the pancetta or bacon to the frying pan and, after that, stir in the rice and move it around until all the grains get a good coating of the buttery juices. Now add the hot stock to the rice, along with some salt and freshly milled black pepper. Let it all come up to a gentle simmer, then transfer the whole lot to the warmed dish, stir it once and then bake, without covering, on the centre shelf of the oven and set a timer for 20 minutes.

When the time is up, gently stir in the Pecorino, folding and turning the rice grains over, then set the timer for a further 15 minutes. Meanwhile, whisk the egg, egg yolks and crème fraîche together, then remove the risotto from the oven and gently stir in this mixture, making sure it is well mixed. Leave the risotto for about 2 minutes, by which time the eggs and crème fraîche will have thickened - but no longer, as it will get too thick. Serve on warm plates with some more Pecorino Romano sprinkled over.
Related Recipes
See more risotto rice recipes (65)
See more spaghetti carbonara recipes (10)