Pomegranate and sumac roast chicken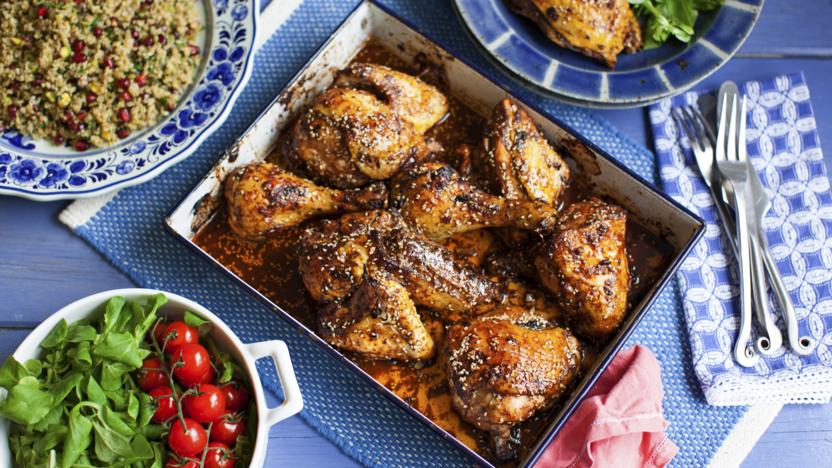 Pomegranate and sumac chicken is an ideal dish for an outdoor summer party. I favour cooking it in the oven because the marinade is apt to burn on a barbecue. Sumac is Turkey's favourite spice. It's a red berry with an astringent, lemony flavour, the fruit of a small bush. This dish is ideal as part of a warm and cold buffet where people have a bit of everything including a rice pilaf.
Ingredients
1 whole chicken, about 2kg/4lb 8oz, jointed into 8 pieces (or the equivalent weight in leg and thigh pieces)
3 tbsp olive oil
1 tbsp sesame seeds
For the marinade
Method
Mix all the marinade ingredients together, rub well into the chicken and leave in the fridge for 1 hour.

Preheat the oven to 200C/180C Fan/Gas 6.

Put the chicken in a roasting tin, drizzle with the olive oil and scatter the sesame seeds over. Roast in the oven for 30 minutes or until cooked through. (To check the chicken is cooked, pierce at the thickest part of the thigh - the juices should run clear.)
Recipe Tips
You could cook this chicken on a barbecue, or cook through in the oven and give a final sizzle on the barbecue for a little extra flavour.
This recipe is from...
Recipes from this episode