Nathan Outlaw's kedgeree is packed with herbs and two types of fish. Substitute the herbs with whatever is available, and buy the stock if you don't have time to make it.



Ingredients
For the vegetable stock
For the kedgeree
Method
To make the vegetable stock, put all the vegetables, garlic, spices and salt into a large saucepan and add enough water to just cover them. Bring to the boil, then turn down the heat and simmer for 30 minutes. Remove from the heat. Pour the wine into the stock and add the herbs and then leave to cool before straining. For best results, leave overnight in the fridge before straining to remove all the solids. The stock is now ready to use, or you can freeze it for up to 2 months – this will make about 1 litre /1¾ pint (any remaining stock can be used for another recipe).

To make the kedgeree, preheat the oven to 200C/180C Fan/Gas 6.

Soak the rice in a bowl of cold water for 15 minutes and then drain through a sieve.

Meanwhile, place a large ovenproof pan over a medium heat and add the oil and butter. When hot, add the onion, celery, leek and carrot and cook for 2 minutes without colouring.

Heat 700ml/1¼ pint of the stock in a separate pan to almost boiling. Add the soaked rice to the pan with the vegetables and then add the saffron, curry powder and turmeric. Pour the stock into the pan and cover with a lid. Place the pan into the oven for 14 minutes, or until the rice is cooked.

Meanwhile, pour water into a large saucepan, add the white wine vinegar and bring it to the boil.

Once the rice is cooked, remove it from the oven and stir through the smoked fish, then immediately replace the lid. Allow to stand for 3–5 minutes; the fish will cook in the residual heat.

Crack the eggs into separate cups. Turn the saucepan of water down so that it's just bubbling, then slide the eggs into the water carefully. Replace the lid and, keeping the water just ticking over, cook the eggs for 3–4 minutes.

To serve, season with salt and pepper and stir the herbs through the rice and fish mixture. Spoon the kedgeree onto warmed plates. Drain the eggs well and place on top of the rice. Finish with lemon wedges on the side.
This recipe is from...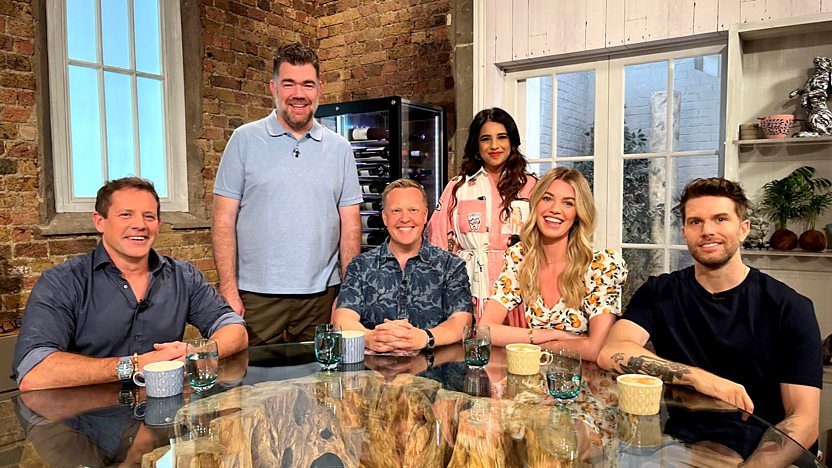 Saturday Kitchen
25/06/2022