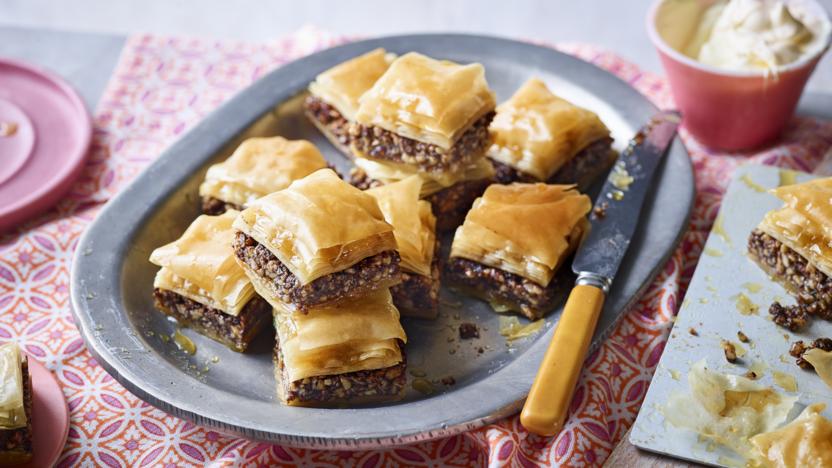 This is my favourite combination of chocolate and orange, and I like to eat it the way we did in Turkey – with lashings of clotted cream on top. They can also be decorated with edible golden stars.


Method
Preheat the oven to 160C/140C Fan/Gas 3 and grease a square 21cm/8¼in cake tin. In a food processor, blend the nuts until ground to small, even pieces. Stir in the golden syrup, salt, cocoa powder and orange zest and put to one side.

Melt the butter in a pan over a low heat, or on low in a dish in the microwave, then open the first pack of filo pastry. Cut the sheets in half so that you have a pile of squares. Place the cake tin on top and trim the pastry with a sharp knife so that it is the same size as the base of the tin.

Brush a square of pastry with butter and lay it in the base of the cake tin, then do the same to every square to lay all the pastry inside the tin. Press the pastry down firmly every time you put in a square. Put the nuts on top and press down again to create an even layer.

Open the second pack of pastry and, again, cut it in half and trim the edges to fit the tin. Layer each piece, one on top of the other as before, brushing with melted butter, and pressing down. If there's any butter left over, just pour it on top.

With the pastry still in the tin, use a sharp knife to cut out the squares, making sure to get all the way to the bottom layer. Bake for 20 minutes, then reduce the heat to 130C/110C Fan/Gas 1 and bake for a further 45 minutes.

To make the syrup, mix together the sugar, honey, orange blossom water and orange juice in a small pan. Add the crushed cardamom pods and let them infuse for a couple of minutes, then remove. Bring to the boil, then reduce to a simmer for 10 minutes. Once the baklava is out of the oven, pour the syrup all over and leave to cool completely before serving.
This recipe is from...
Recipes from this episode