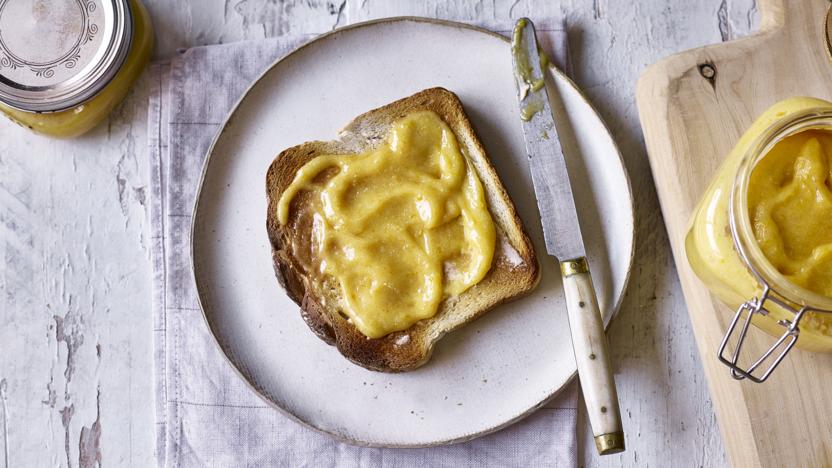 The sharpness of the orange and lemon juices combines beautifully with the butter, sugar and eggs to make a silky smooth fruit curd.

For this recipe you will need a cooking thermometer.
Method
Combine the orange zest, orange and lemon juices, butter and sugar in a 2 litre/3½ pint heatproof bowl and place over a saucepan of gently simmering water. Make sure the bowl fits snugly without touching the water. Lightly stir the mixture occasionally until the butter has just started to melt – the temperature on a cooking thermometer should be no more than 50C.

Meanwhile, place the eggs and egg yolks in a small bowl and beat well. Carefully pour the eggs into the orange mixture and whisk briskly with a balloon whisk for a minute or so until well combined. Cook the mixture for 9–10 minutes, scraping down the sides occasionally with a spatula and giving the mixture a whisk every minute. The curd is cooked when the mixture is thick, the surface is glossy and the temperature reaches 78–80C. Remove from the heat and stir in the thyme.

Tip the curd into a wide-necked jug with a good pouring lip, scraping in all of the mixture from the bowl. Fill the three jars and seal at once. Store the jars in a cool place for up to 4 weeks. Once opened, keep in the fridge and eat within 2 weeks.
Recipe Tips
To sterilise the lids and jars before storing the curd, put them through a hot dishwasher cycle that is at least 60C. Do not dry them with a tea towel, leave them to air dry. You can also preheat the oven to 140C/120C Fan/Gas 1, wash the lids and jars in hot water and place them in the oven for 15 minutes. Switch off the oven and remove the lids and jars once cool.
The cooking time given in the recipe may vary depending on the type of bowl used; I find a robust stainless steel bowl works best. However, for glass or ceramic bowls allow a few more minutes for the mixture to cook and thicken.