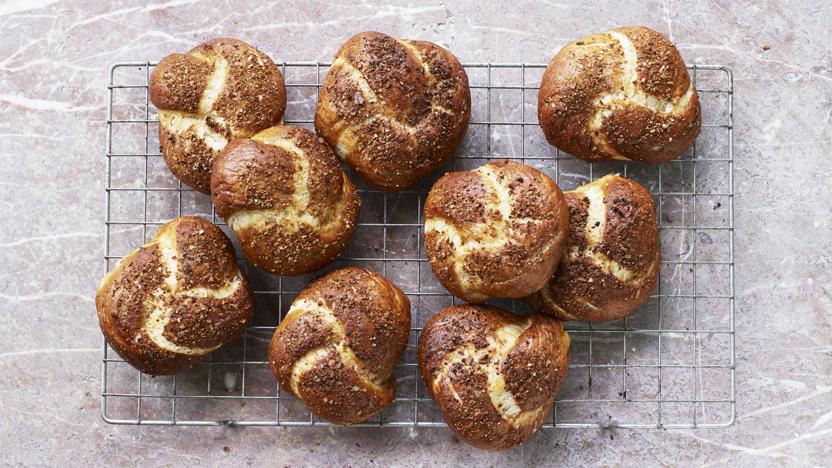 These savoury pretzel rolls make a delicious lunch - try stuffing them with your favourite sandwich fillings.

Method
Place the flour, yeast, sugar, onions, onion granules and chives in a large bowl and mix until well combined. Add the butter and mix through using a cutlery knife. Make a well in the centre, pour in the water and mix until the dough comes together.

Attach the dough hook to a stand mixer and knead for 5 minutes on medium until the dough is smooth and stretchy. Place in a greased bowl, cover and leave to double in size (about 45 minutes).

Grease 2 baking trays. Divide the dough into 12 equal-sized balls, about 75g/2¾oz each. Roll out each ball on a lightly floured surface to a 30cm/12in sausage shape and then tie into a knot, tucking the ends underneath. Transfer onto the greased trays, cover with greased cling film and leave for 15 minutes. Preheat the oven to 200C/180C Fan/Gas 6.

Bring a large saucepan of water to the boil. Add the bicarbonate of soda, stir until dissolved, then leave to simmer. Gently drop in a few of the dough knots (just enough so they don't touch) and cook for 10 seconds. Flip with a slotted spoon and leave in for another 10 seconds. Drain and pop back onto the greased trays. Repeat until all the knots are ready.

To finish, glaze the pretzels with the beaten egg. Mix the paprika, onion granules and salt together, sprinkle all over the knots and bake for 12 minutes. Leave to cool a little on a wire rack and then eat while still warm.
This recipe is from...
Recipes from this episode