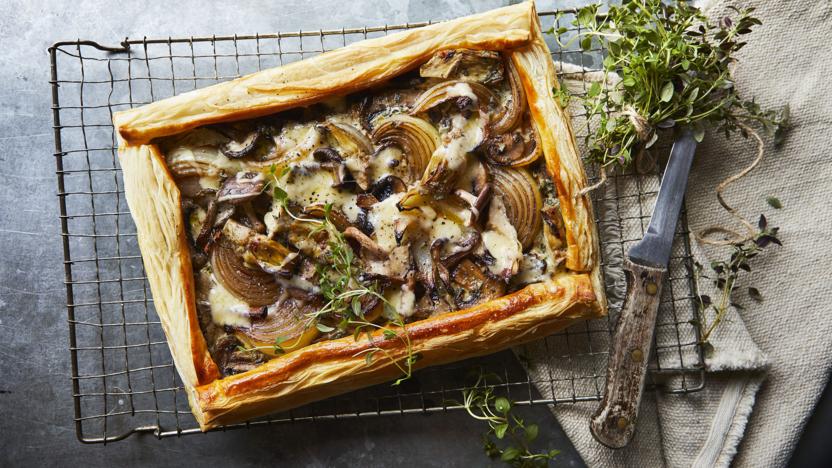 Made in a very simple way using readymade pastry, this comforting veggie tart is all about the combination of the crisp puff pastry and herbed vegetables.
Method
Preheat the oven to 220C/200C Fan/Gas 7. Line a large baking tray with baking paper.

Heat 2 tablespoons of the olive oil in a large frying pan. Add the onions and fry over a high heat for about 3–4 minutes. Cover with a lid and gently cook for about 20 minutes until soft (if your pan doesn't have a lid use a large piece of kitchen foil). Remove the lid, fry for a minute to evaporate any liquid and add the sugar and vinegar. Fry for couple of minutes until golden. Remove from the pan to cool.

Add the remaining oil to the pan over a high heat. Add the mushrooms and fry for 2–3 minutes then cover with a lid and cook for 3–4 minutes. Remove the lid and fry over a high heat to evaporate any liquid. Remove with a slotted spoon and add to the onions.

Unroll the pastry and place on the baking tray. Cut and remove a 1½cm/¾in border of pastry from around the edge of the rolled pastry. Brush these strips with egg and place on top of the main pastry base, around all of the edges, pressing down lightly to create a raised border. Prick the middle section of the pastry base with a fork. Brush the border with egg.

Pour the remaining egg into a bowl. Pour in the cream and whisk. Add the sage and thyme and season with salt and pepper.

Spoon the onions and mushrooms into the pastry base, inside the border. Scatter the artichoke pieces over the top and spoon over the egg mixture. Season with salt and pepper and sprinkle over the cheese.

Bake in the oven for about 25–30 minutes until the pastry is crisp and golden brown all over. Serve hot with fresh salad.
Recipe Tips
Artichoke can be bought chargrilled and is often stored in oil so drain well before adding to the tart. This tart can be made and assembled up to 4 hours ahead, ready to cook. It is not suitable for freezing.
This recipe is from...
Recipes from this episode