One-pan chicken with ginger and apricots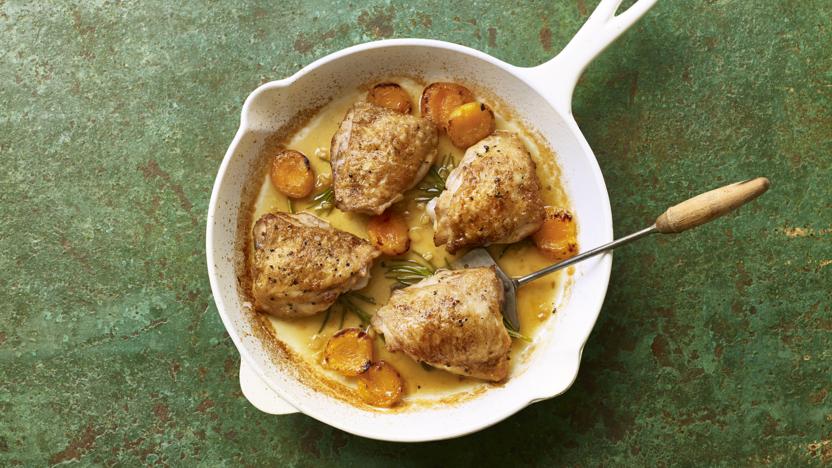 Juicy fresh apricots give a pop of colour to this subtly spicy chicken dish. Delicious served with crusty bread to mop up the juices.
Method
Preheat the oven to 210C/190C Fan/Gas 6½.

Season the chicken with salt and pepper and sprinkle the skins with the ground ginger. Heat the oil in a large ovenproof frying pan or shallow casserole dish over a high heat. Brown the chicken on both sides, then set aside on a plate lined with kitchen paper.

Pour off any excess oil from the pan, add the chopped ginger and gently fry for 2–3 minutes, until soft. Add the wine, followed by the vinegar and the honey or ginger syrup. Allow to bubble away for a minute, until the sauce has thickened slightly.

Add the apricot halves and rosemary. Return the chicken to the pan, skin side up, one thigh on top of each piece of rosemary. Transfer the pan, uncovered, to the oven and roast for 35 minutes, or until the apricots are tender and slightly caramelised and the skin on the chicken is nice and crisp. Serve hot, with crusty bread.
Recipe Tips
If you can't find ripe apricots, this dish is also delicious made with plums, peaches or nectarines.