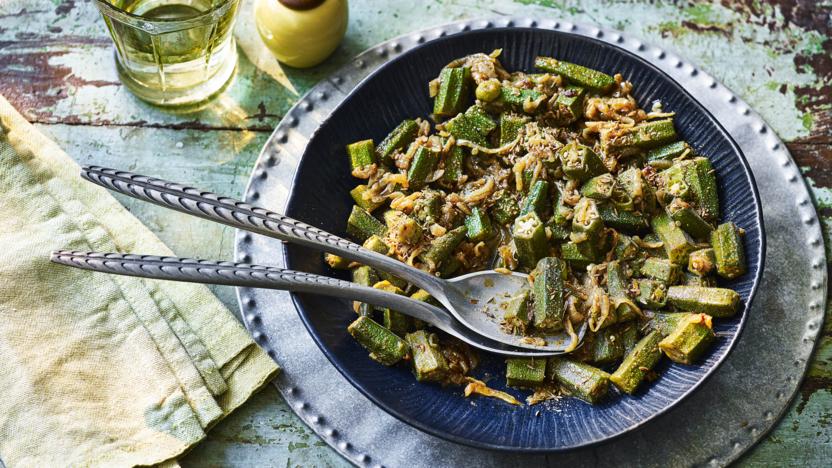 A quick vegan and vegetarian okra curry that works just as well as a side dish. It's important to wash and dry the okra before chopping them, or they will become slimey.
Method
Firstly prepare the okra. Wash the okra under cold running water and dry each one individually using kitchen paper. Top and tail the okra and cut into 1–2cm/ ½–¾in pieces.

Heat the olive oil in a large sauté pan or frying pan. Once hot, add the asafoetida and fry for a minute, then add the onions and okra. Fry over a high heat for 4–5 minutes, stirring continuously, before adding the salt.

Stir in the ground coriander and chopped chillies and continue to fry over a high heat for a further 2–3 minutes while stirring constantly.

Stir in the freshly chopped coriander leaves and cook for a further few minutes until the onions start to brown and caramelise. Add the Kashmiri curry masala and cook for another 2 minutes.

Remove from the heat and finally sprinkle over a generous pinch of jeera masala. Stir through the curry and serve at once.
Recipe Tips
Jeera masala is a spice blend of roasted and ground coriander seeds and cumin seeds.
Kashmiri curry masala (or bassar curry powder) is a spice blend which is often homemade so the spices can vary. Typically it contains turmeric, fenugreek seeds, cumin powder, Kashmiri chilli powder, coriander powder, olive oil, paprika and tandoori masala.
Both can be bought online or in Asian supermarkets.
This recipe is from...
Recipes from this episode