Oat, maple and nut granola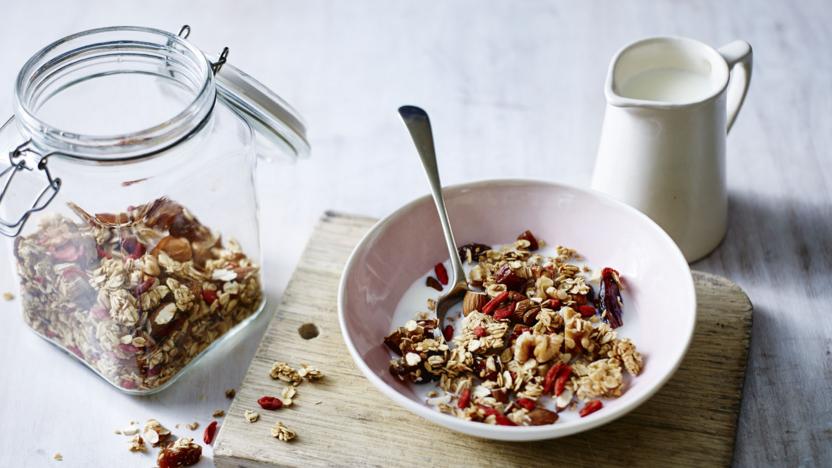 Make a large batch of this nutrient- and energy-packed granola for three weeks of ready-steady-go breakfasts. Serve your homemade granola with yoghurt and fruit, or simply with milk.
Ingredients
200g/7oz rolled oats
50g/1¾oz golden linseed
40g/1½oz bran
2 tbsp maple syrup
100g/3½oz whole almonds, skin on, very roughly chopped
100g/3½oz shelled walnuts, roughly chopped
10-12 dates, stones removed, roughly chopped
50g/2oz goji berries (available from health-food shops and some supermarkets)
handful hemp seeds (available from health-food shops)
large pinch ground cinnamon
Method
Preheat the oven to 160C/325F/Gas 3.

Sprinkle the oats, linseeds and bran onto a baking tray. Drizzle over the maple syrup and roll the dry ingredients around on the baking tray to coat them in the syrup.

Bake the syrup-coated ingredients in the oven for 15-20 minutes, shaking the tray a few times as the contents cook. Remove from the oven when golden-brown and set aside to cool.

When the oat mixture has cooled to room temperature, tip it into a large airtight container and stir in the nuts, dates, goji berries, hemp seeds and cinnamon until well combined.
Recipe Tips
Homemade granola will keep in an airtight container for up to three weeks.
This recipe is from...
Recipes from this episode