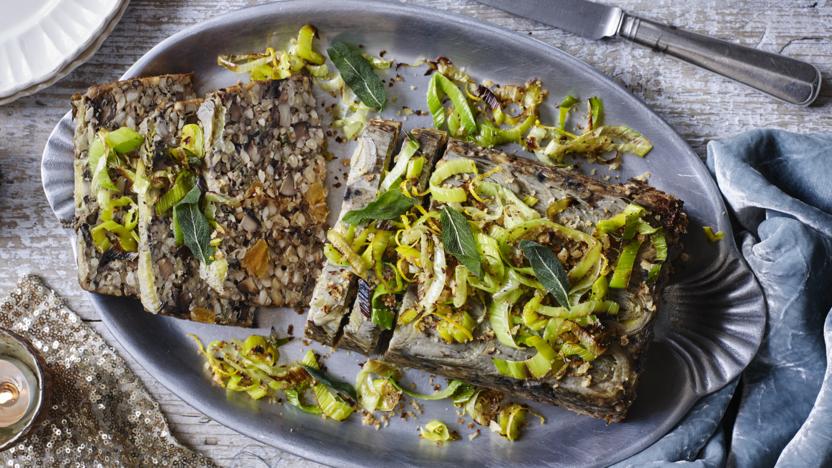 This really easy vegetarian nut roast can happily be made in advance and sit for a half an hour. It's also brilliant cold with chutney in sandwiches.
Method
Pre-heat the oven to 180C/160C Fan/Gas 4. Butter a 900g/2lb loaf tin and line the bottom with a strip of baking paper that comes up the short sides. This will help loosen the loaf to turn it out.

Add 1 tablespoon oil to a frying pan and gently fry the onion for 10 minutes until soft, and just beginning to colour. Add the garlic and fry for 1 minute. Transfer to a bowl. Set the pan back on the heat, add the remaining oil and fry the rosemary and mushrooms until they have browned, released their water and are mostly dry. Set aside with the onions and garlic.

Put the nuts in a food processor and pulse until roughly chopped. Transfer to a large bowl with the cheese, grains, lentils, herbs, breadcrumbs, pine nuts (if using) and apricots. Stir in the onion and mushroom mixture.

In another bowl, combine the lemon zest, eggs, wine and soy sauce. Pour into the nut mixture, season with salt and plenty of black pepper and stir until thoroughly combined.

Put a layer of sliced leeks in the bottom of the prepared loaf tin so they are lying flat and evenly spread out (reserve the green parts for garnish). Pour the nut roast mixture on top and pack down with the back of a spoon. Cover with foil and bake for 1 hour. Allow the nut roast to rest for at least ten minutes before turning out.

To garnish, heat a knob of butter in a frying pan over a medium heat. Add the green parts of the sliced leeks and fry for 5 minutes, stirring occasionally, until softened. Add the reserved breadcrumbs and sage leaves, stirring until the breadcrumbs are beginning to crisp a little. Sprinkle the mixture over the top of the turned-out nut roast and serve with all the trimmings.