Christmas nut roast with mushroom gravy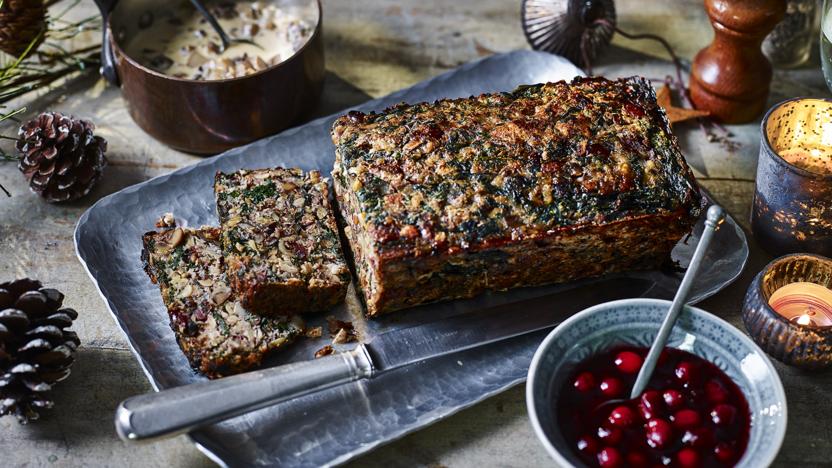 Perfect for a vegetarian Christmas, this nut roast recipe is served with creamy mushrooms, spinach and tangy sherry-soaked cranberries.

Equipment: You will need a 1kg/2lb 4oz loaf tin.
Ingredients
For the gravy
For the cranberry sauce
Method
Preheat the oven to 200C/180C Fan/Gas 6. Line the loaf tin with baking paper.

Wash the spinach in plenty of water and put into a saucepan. Heat gently until it has wilted down, stirring a couple of times, then drain over a sieve. Leave to cool, then roughly chop.

Put the cranberries into a small saucepan and cover with the sherry. Bring to the boil, remove from the heat and set aside until the cranberries have plumped up and absorbed most of the sherry.

Heat the olive oil and butter in a frying pan. Add the onion and mushrooms and cook over a medium heat until any liquid coming out of the mushrooms has evaporated and the onion has softened. Add the parsnip and continue to cook until the parsnip has reduced in volume and the onion has started to caramelise. Add the garlic, dried sage, thyme and lemon zest, then cook for a couple more minutes. Remove from the heat and allow to cool slightly.

Put the freekah or spelt into a large bowl along with the mixed nuts, chestnuts, breadcrumbs, spinach, cooked vegetables and the eggs. Season well with salt and pepper and mix thoroughly.

Spoon into the lined loaf tin and dot over the butter. Smooth down, but do not pack too tightly. Cover with a layer of greaseproof paper and bake in the oven for about an hour or until piping hot.

Meanwhile, to make the gravy, heat the olive oil and butter in a saucepan. Add the onion and cook for several minutes until starting to caramelise around the edges. Add the mushrooms and cook for 5 minutes, stirring regularly. Add the garlic and thyme season well and continue to cook for a couple of minutes. Turn up the heat and pour in the sherry. Allow to bubble until almost completely evaporated, then add the stock. Simmer, covered, for 10 minutes. Stir in the cream just before serving.

To make the cranberry sauce, put the cranberries into a saucepan with orange juice and zest and the sugar. Gently heat until the sugar has dissolved then turn up the heat and simmer until the cranberries have softened and started to burst. Stir and remove from the heat – you should have a mixture of whole and broken down cranberries. Allow to cool and store in the fridge until needed.
This recipe is from...
Recipes from this episode