No-churn strawberry ice cream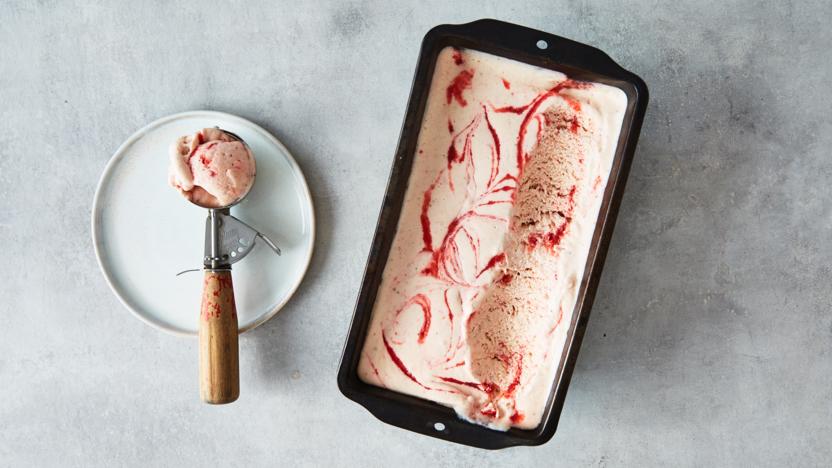 What better way to capture the flavour of summer, when strawberries are at their best, than in this luxurious no-churn strawberry ice cream? It's like a raspberry ripple ice cream but using strawberries!

You will need a sugar thermometer or digital thermometer and a hand-held electric whisk.
Method
Whisk the cream in a bowl until soft peaks form when you lift up the whisk. Gently fold in the yoghurt and set aside.

Put the strawberries, icing sugar and lemon juice in a food processor or blender and blitz to a smooth purée. Set aside.

Mix the whole eggs, egg yolks, granulated sugar and a pinch of salt in a heatproof bowl. Set over a pan of gently simmering water (do not let the base of the bowl touch the water) and stir constantly until it reaches 70C/160F. Remove from the heat and using an electric whisk, beat the egg mixture until pale, thick and at least tripled in volume.

Set aside 100ml/3½fl oz of the strawberry purée into a small bowl. Mix the remaining purée into the beaten egg mixture until combined.

Stir one third of the egg mixture into the whipped cream to loosen, then gently fold in the remaining mixture. Pour into a lidded freezable container.

Drizzle the reserved strawberry purée over the cream and swirl a spoon through it a few times to make a ripple. Put the lid on the container and freeze for at least 4 hours, or until firm.

Remove from the freezer and leave to stand at room temperature for 10–15 minutes before serving.