New potato and chorizo tortilla
Preparation time
less than 30 mins
Cooking time
30 mins to 1 hour
Many countries have their own version of an open omelette. The Italians have frittata, the Spanish tortilla. In France it is Spanish omelette. Traditionally it wouldn't be new season potatoes used in this dish – it would be bigger main crop potatoes – but I wanted to celebrate the first of the early potatoes and they work surprisingly well.

Preparation time
less than 30 mins
Cooking time
30 mins to 1 hour
Method
Preheat the oven to 170C/150C Fan/Gas 3½.

Heat the oil a medium sauté pan or frying pan with a lid over a medium heat. Gently fry the potatoes, onion, garlic, bay leaves, thyme, rosemary, Espelette pepper and salt for 13–15 minutes. Stir regularly to avoid any colouring.

Add the chorizo and fry for 5 minutes with the lid on so the flavours mingle. Add the parsley and spinach and stir for 30 seconds. Remove from the heat, add the eggs and stir until evenly mixed.

Pour the egg mixture into a 20cm/8in non-stick, ovenproof frying pan and place in the oven for 15 minutes, until cooked. Leave to rest for 5 minutes before turning out on to a board or a large serving dish.

Cut the omelette into 4–6 wedge-shaped slices using a serrated knife and serve warm.
Recipe Tips
As the season goes on, you could substitute the Jersey Royals for Belle de Fontenay and other different varieties, such as Agria: you just don't want a potato that is too floury as it will break up.
This dish offers hundreds of opportunities for interpretation using different vegetables and herbs – be as creative as you like.
Related Recipes
See more frittata recipes (25)
See more jersey royal potatoes recipes (25)
This recipe is from...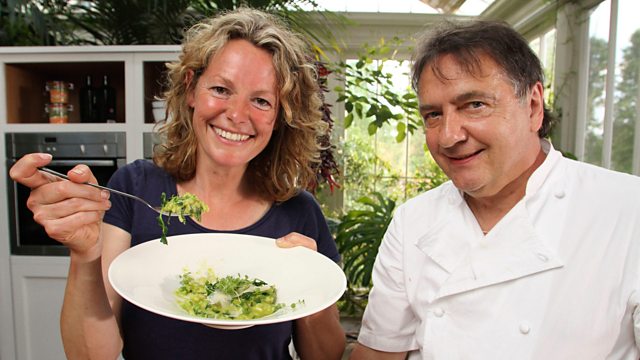 Kew on a Plate
1. Spring
Recipes from this episode