Mustard mac 'n' cheese hotdog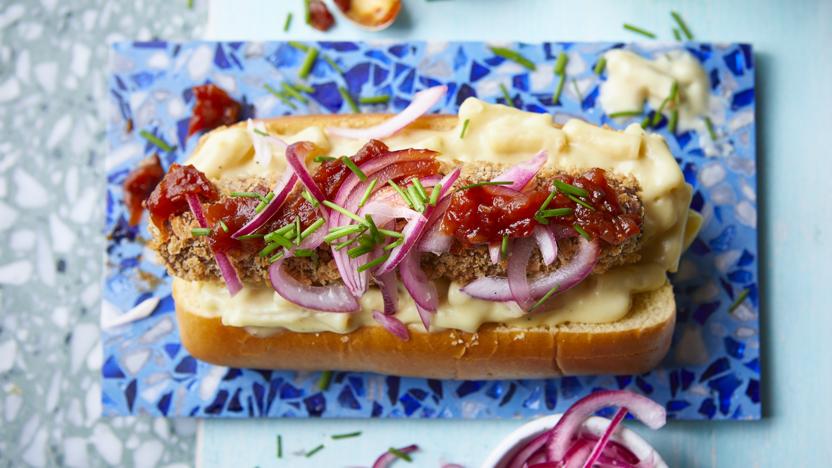 All the fun of the fair, without the 'mystery meat' sausage! A mushroom-based 'hotdog' sits on a bed of mustardy mac 'n' cheese, topped with quick pickled onions and tomato relish.
Ingredients
For the walnut and mushroom 'hotdog'
For the pink pickled onion
For the mustard mac and cheese
To serve
Method
To make the walnut and mushroom hotdogs, blitz the walnuts to a crumb in a food processor and place in a large bowl.

Heat 1 tablespoon of the oil in a frying pan over a medium–high heat, add the onion, mushrooms and a pinch of salt and fry for about 8 minutes, until the mushrooms are browned and the juices have evaporated. Place in the food processor along with the sun-dried tomatoes and blitz to a coarse paste.

Mix the mushroom mixture with the walnuts, smoked paprika, garlic, soy sauce and fresh breadcrumbs until evenly combined. Season with salt and pepper to taste and roll into four long sausage shapes. Place on a tray lined with baking paper and transfer to the fridge to firm up.

To make the pink pickled onion, mix the sugar, vinegar and salt in a small bowl. Add the red onion and stir to combine. Set aside to marinate.

To make the mac and cheese, bring a saucepan of salted water to the boil, add the macaroni and cook for 10 minutes, until soft. Meanwhile, melt the butter in a small pan over a medium heat, stir in the flour to form a paste and cook for a few minutes. Slowly pour in the milk, whisking continually for about 5 minutes, until the mixture is smooth, thick and hot. Remove from the heat and stir in the cheeses and mustards. Drain the macaroni and stir into the cheese sauce. Season with salt and pepper to taste.

Preheat a deep-fat fryer to 190C. (CAUTION: hot oil can be dangerous. Do not leave unattended.)

Put the flour, egg and panko breadcrumbs in three separate shallow bowls. Carefully dip each hotdog into the flour, then into the egg and finally into the breadcrumbs. If the hotdogs break, simply squeeze back into shape. Deep-fry the hotdogs for 4 minutes, or until golden brown and crisp. Drain on kitchen paper.

To assemble, split the buns two-thirds of the way through. Add a few spoonfuls of the mac and cheese and top with a hotdog, some tomato and chilli relish and some drained pink pickled onion. Garnish with chopped parsley or chives and serve hot.
This recipe is from...
Hungry for It
4. Episode 4
Recipes from this episode