Mussels 'Rockefeller' style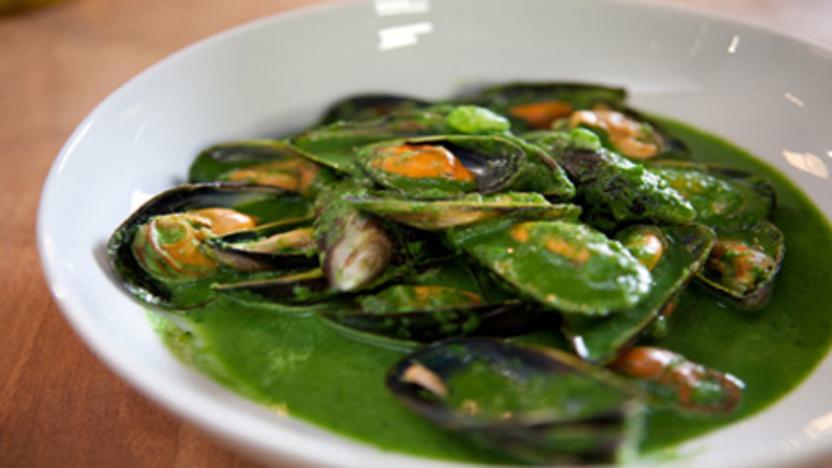 Finger bowls at the ready for a classy mussel recipe that packs a punch - serve with toasted baguette or sourdough.

Ingredients
For the mussels
For the Rockefeller mixture
Method
Bring a large pan of salted water to the boil and blanch the spinach for 30 seconds. Drain the spinach, rinse it under cold water, squeeze and pat dry.

Melt the butter in a large saucepan and gently fry the shallots and celery until softened. Tip in the mussels, increase the heat until the sound of sizzling emanates from beneath, then add the pastis and sherry. Shake the saucepan once steam appears, place back onto the heat, and continue cooking for a further 1-2 minutes.

Once all the shells are fully open, immediately strain into a colander suspended over a bowl. Shake the mussels to extract the juices and set aside.

Pour the juices into a blender along with the reserved spinach and other remaining 'Rockefeller' ingredients. Blend until smooth and return the green sauce to the mussel cooking pot.

Remove the empty half shell from all the mussels and add the full halves to the green sauce. Briefly reheat and serve.
Recipe Tips
Make sure you discard any mussels that fail to open once cooked. Because of the copious amount of sauce, the mussels are eaten on the half shell. If you're making a lot for friends, get everyone involved to help remove the shells. Also be sure to weigh out the parsley in this recipe to ensure you have the correct amount.