Mussels cooked in beer with deep-fried monkfish
There's more to beer than just drinking it! Here it's used to steam mussels and batter monkfish. Serve with an ice cold… beer!



Ingredients
For the monkfish cheeks
200g/7oz plain flour, plus 1 tbsp for dusting
2 tsp fresh yeast
200ml/7fl oz wheat beer
125ml/4fl oz sparkling water
3 monkfish cheeks, cut into 3cm pieces
For the mussels
Method
To make the deep-fried monkfish cheeks, whisk 200g/7oz flour, yeast, beer and sparkling water in a bowl until you have a loose batter. Leave to stand for 30 minutes until foaming.

Meanwhile, to make the mussels, if any mussels are open, tap them lightly on a hard surface. If they don't close, discard them.

Heat the oil in a frying pan and sauté the shallots, coriander seeds, lemongrass and lime leaves until softened.

Add the mussels and pour in the beer. Put the lid on and steam for 5 minutes until the mussels have opened. (Discard any that remain closed.) Pick the mussel meat from the shells and return to the broth. Reduce until the volume of the liquid has reduced by half.

Pour in the cream and add most of the chopped chervil. Season with salt and pepper and squeeze over the lime. Keep warm.

Preheat a deep-fat fryer to 180C. (Caution, hot oil can be dangerous. Don't leave hot oil unattended.)

Dip the cheeks in flour and then the batter. Carefully lower into the oil and deep-fry 5–6 minutes until golden. Drain on kitchen paper.

Serve the deep-fried monkfish cheeks alongside the mussels and garnish with the remaining chervil.
This recipe is from...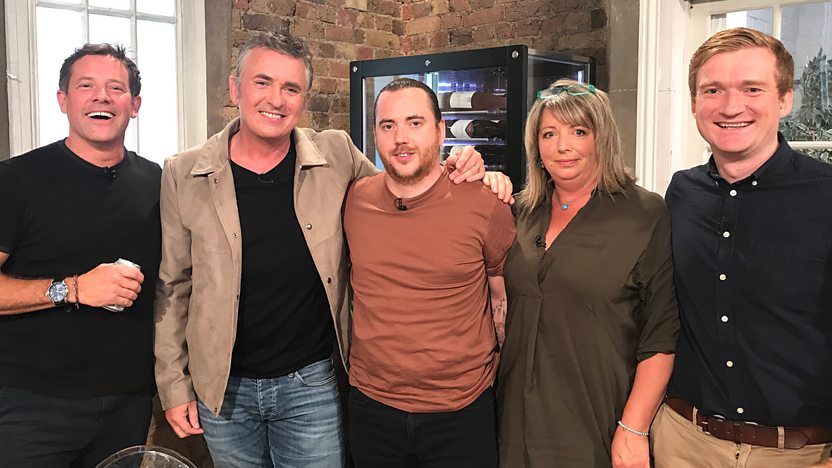 Saturday Kitchen
03/08/2019
Recipes from this episode