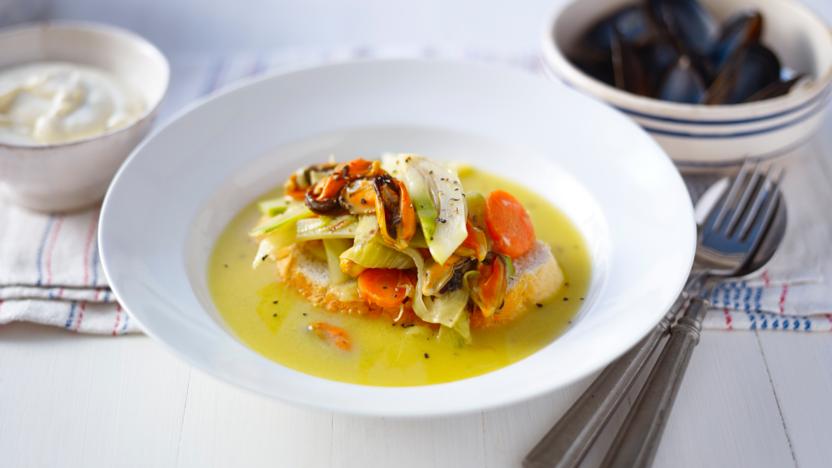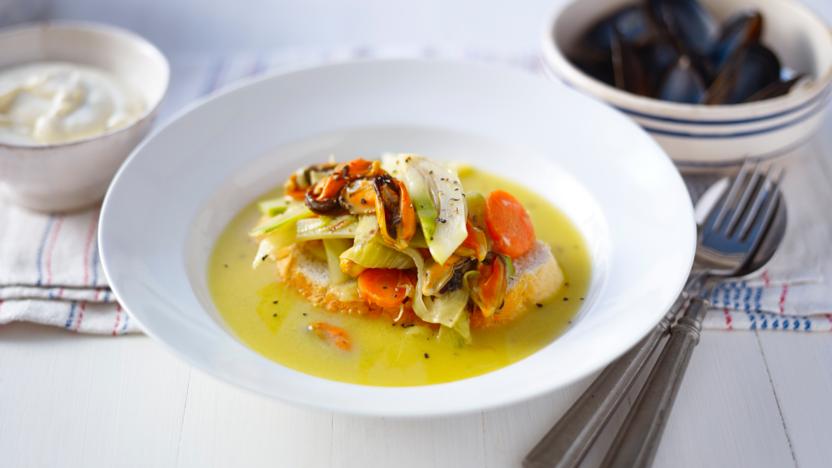 Homemade aïoli thickens and adds irresistible garlicky flavour to this delicious seafood stew. Use bread to mop up all the lovely juices - slightly stale is best as it will hold together better.

Ingredients
For the aïoli
For the mussels
Method
For the aïoli, peel the garlic and remove the central green germ from any of the cloves. Grate into a food processor and add the egg yolks, lemon juice, a generous pinch of salt and pepper and the mustard. Blend until smooth, then gradually add the oil, until you have a smooth paste. Set aside in the fridge.

For the mussels, clean and de-beard the mussels. If any are open, and do not shut when tapped firmly, then discard immediately.

Heat a large pan with a lid over a high heat.

Add the oil and half the onion. Gently fry until soft then add the bay leaves and a generous splash of wine.

Once hot, add the mussels immediately followed by 200ml/7fl oz of water. Quickly clamp the lid on and steam the mussels for 3-5 minutes, or until they have just opened. Tip the mussels into a colander set over a bowl, so that you retain the cooking juices, discarding any that haven't opened.

When cool enough to handle, pick the mussel meat from the shells and place in a bowl. Reserve the strained cooking liquid.

Wash the leek and finely slice the white part. Fry the remaining onion, leek, fennel and carrot in a large pan with a little olive oil until tender. Add a splash more white wine, the reserved cooking liquid from the mussels and 100ml/3½fl oz water. Add the saffron and a little salt and pepper to taste and simmer for 10 minutes.

Once the broth has simmered for 10 minutes, whisk in a large spoonful of the aïoli to thicken. Follow with the picked mussels and allow them to warm through before serving.

To serve, put a thick slice of stale bread in each serving bowl and pour over the stew.
Wines
Wine: Domaine Terrebrune Bandol Rosé 2011, Rimauresq Cru Classé Rosé, Côtes de Provence 2011 or Domaine Félines Jourdan, Picpoul de Pinet 2011. Sherry: Waitrose Dry Amontillado, Fernando de Castilla, Classic Amontillado or Lustau, Manzanilla Papirusa.
This recipe is from...
Recipes from this episode