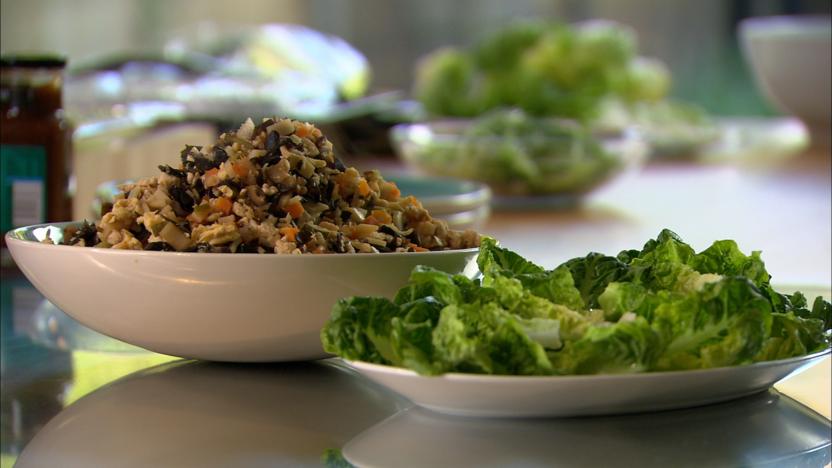 Preparation time
less than 30 mins
Cooking time
less than 10 mins
Chung-he Huang shows you how to make this chicken, mushroom and egg stir-fry served in lettuce cups.


Preparation time
less than 30 mins
Cooking time
less than 10 mins
Ingredients
To serve
12 Iceberg lettuce leaves or 12 small wheat flour Chinese pancakes, steamed in a bamboo steamer for 5-6 minutes
Method
Heat a wok until smoking and add two tablespoons of the groundnut oil, then add the eggs and cook for one minute, or until scrambled. Remove from the wok and put to one side. Wipe the wok clean.

Heat the remaining groundnut oil in the wok until smoking, then add the garlic and ginger and stir fry for a few seconds. Add the chicken and cook for 1-2 minutes, or until lightly golden, then add the rice wine or sherry and stir well. Stir fry for a few seconds, then add the dried Chinese mushrooms and carrot and stir-fry for 1-2 minutes, or until the carrots are tender but with a bit of bite.

Add the gherkins, dried wood ear mushrooms, bamboo shoots and peanuts and mix well. Stir in the scrambled eggs. Season with the soy sauce, sesame oil and pepper and transfer to a serving dish.

To serve, place the dish in the centre of the table together with the lettuce leaves. Stuff each lettuce leaf with the filling and eat immediately.