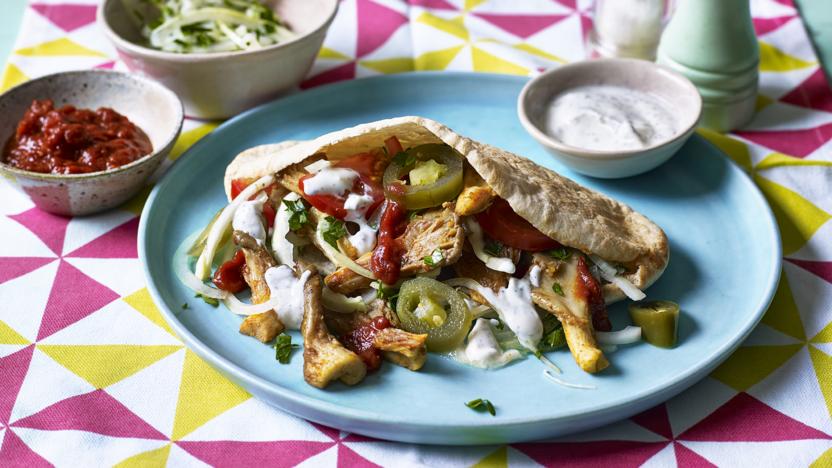 A meat-free mushroom 'doner' kebab packed with two types of sauces, pickles and veg. A mighty delicious vegetarian dish.


Ingredients
For the chilli sauce
For the onion
For the yoghurt sauce
For the 'doner'
For the garnish
Method
Preheat the oven to 180C/200C Fan/Gas 4.

To make the chilli sauce, heat the chopped tomatoes, rose harissa, sugar and lemon juice in a small saucepan over a medium heat. Bring to a gentle boil and cook for 10 minutes, stirring regularly, until reduced to a thick sauce-like consistency. Remove from the heat and set aside to cool. You can blend the sauce until it's smooth using a hand-blender if you like, or just leave it chunky.

For the onion, mix together the onion slices, vinegar and parsley and set aside.

To make the yoghurt sauce, mix the yoghurt with the dried mint, season with salt and pepper and set aside.

Put the pittas in the oven to warm for 5 minutes.

To make the 'doner,' heat a frying pan over a medium-high heat. Add the mushrooms and dry-fry for 2 minutes, stirring once or twice. Add the garlic oil, paprika, coriander, celery salt, garlic granules and black pepper and quickly coat the mushrooms. Add 2–3 tablespoons of water to the pan and stir-fry for 1 minute before removing from the heat.

Split the warmed pitta breads. Spoon a little white cabbage into each pitta and add a little tomato and onion. Divide the mushrooms between the pittas, add a little more cabbage and tomato, then drizzle with the chilli and yoghurt sauces. Serve immediately, topped with the pickled chillies, if using.