Mushroom and parsnip rösti pie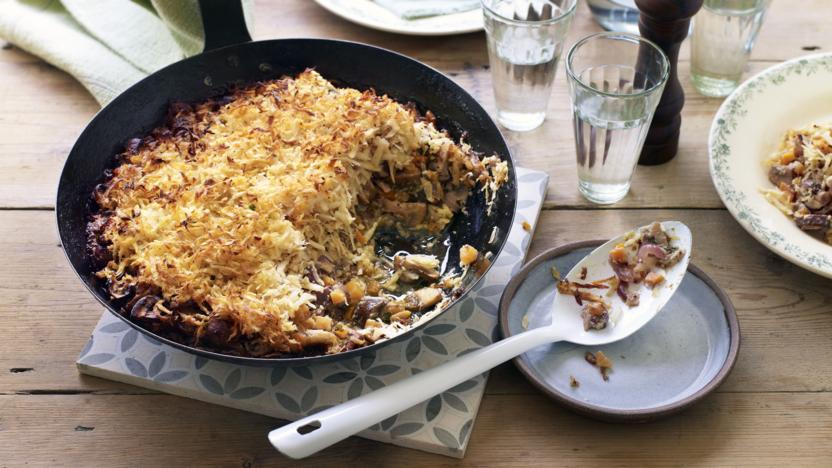 A hearty, warming vegetarian mushroom pie that would satisfy the richest and most lavish tastebuds, but light enough that it won't send you to sleep.
Method
Place a large ovenproof frying pan over a high heat and add a good glug of oil. Add enough mushrooms to cover the base of the pan, season with salt and pepper, and sauté until nicely brown and beginning to crisp at the edges. Transfer to a bowl and fry the remaining mushrooms in batches.

Put the pan back on the heat and add another glug of oil. Add the garlic, thyme, onions, carrots and swede, season with a good pinch of salt and pepper and cook over a medium heat for 10 minutes, until softened and starting to brown.

Preheat the oven to 200C/180C Fan/Gas 6.

Add the mushrooms and the wine or stock, and simmer until almost all the liquid has evaporated. Add the Worcestershire sauce, mustards, parsley and crème fraîche, if using, and cook gently for a few more minutes, until you have a rich gravy. Taste and add more salt and pepper if needed.

Season the parnsips with salt and pepper and pile on top of the mushroom mixture, leaving a little gap around the edge. Drizzle generously with oil and bake for 40 minutes, until golden brown and crisp.

Serve with some cheerful greens.
Recipe Tips
If you don't have an overproof frying pan, use a regular pan and transfer the murshroom mixture to a wide oven dish before topping with the parsnip.
Frying the mushrooms separately makes sure they stay crisp, woody and golden as the pie cooks.
The parsnip topping is a little lighter, with more crunch and texture than a traditional mash topping, but sometimes after a long walk I top it off with a 50/50 parsnip/potato and olive oil mash – a really filling dinner that will serve nearer eight. I often make this without the crème fraiche – you'll need to simmer for a couple of minutes extra to thicken.