Vegan risotto with mushroom and leek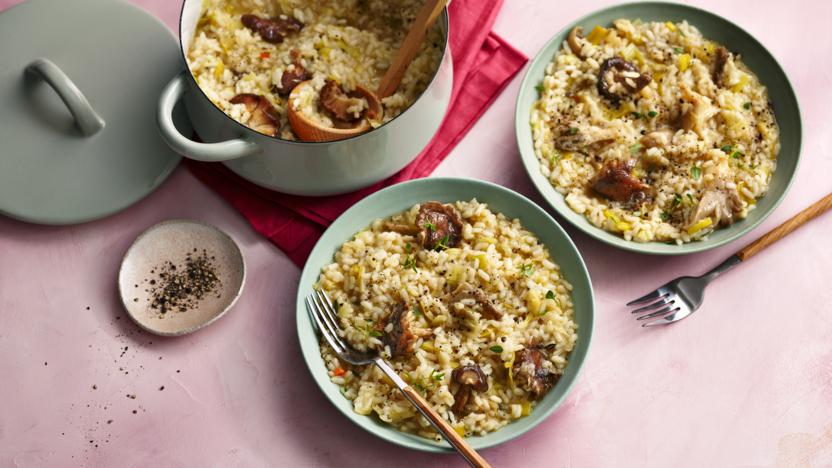 Full of umami from the mushrooms and tamari, this vegan risotto is comforting, delicious and gluten free.
Method
Put the porcini mushrooms in a bowl, add the hot vegetable stock and leave to soak for 10 minutes.

Meanwhile, heat the oil in a large frying pan, add the leek, and fry for 5–6 minutes or until beginning to soften. Add the garlic, mushrooms, butter, tamari and thyme and fry for 5 minutes.

Add the rice to the pan and stir for a few minutes. Add the wine, turn the heat up slightly and let the alcohol cook off for about 2 minutes.

Slowly pour in around one-third of the porcini stock, and the porcini mushrooms, allowing the rice to absorb the stock before adding more. Repeat until most of the stock has been absorbed (this should take 15–20 minutes).

Add the salt and pepper, taste and add a little more seasoning if you prefer. If using asparagus, place it on top of the risotto and cover the pan with a lid; cook for a further 3–4 minutes. Serve with an extra sprinkling of cracked black pepper.
Recipe Tips
If you want to add extra vegetables, stir in 90g/3¼oz peas, 100g/3½oz young spinach or 100g/3½oz baby kale when you season the risotto in step 5.