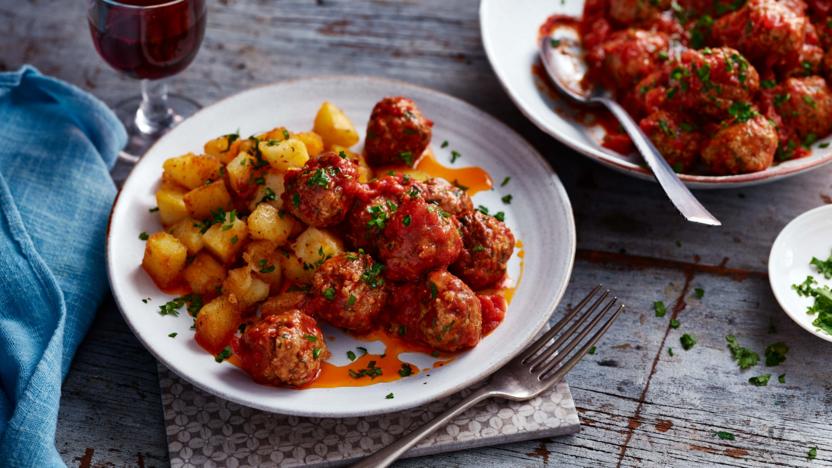 Certainly more-ish, these Spanish lamb meatballs are made with lots of spices and served with crunchy patatas bravas.


Ingredients
For the meatballs
For the tomato sauce
For the patatas bravas
Method
For the meatballs, put all the ingredients into a large bowl, season with a generous amount of salt and pepper and mix thoroughly with your hands. The mixture will feel wet to start with, but if you fold it in on itself as if you are kneading it, it will stiffen up. Form the mixture into balls of around 50g/1¾oz each – you should end up with about 16.

To cook, either heat olive oil in a large frying pan and fry the meatballs in two batches, until well browned on all sides, or preheat the oven to 200C/180C Fan/Gas 6, put the meatballs on a greased baking tray, and cook for around 15 minutes, or until well browned and just cooked through. Keep warm.

Meanwhile, to make the patata bravas, put the potatoes in a saucepan and cover with cold water. Bring to the boil and add plenty of salt. Simmer for 3–4 minutes until the potatoes are starting to soften.

While you are cooking the meatballs, make the sauce: heat the olive oil in a saucepan. Add the onion and fry for 10 minutes or until softened and translucent.

Add the garlic, spices and bay leaves and cook for a couple of minutes, stirring constantly, then add the tomatoes and honey. Pour over 200ml/7fl oz water, then bring to the boil. Reduce the heat and leave to simmer, covered, for 15 minutes, then uncovered for a further 5 minutes. Stir in the yoghurt, if using.

Drain the potatoes and heat the olive oil in a large frying pan. Add the potatoes in a single layer (you may need to cook in batches if you can't fit them in) and fry for 15–20 minutes or until crisp and brown on all sides.

To make the patatas bravas sauce, heat the olive oil in a small saucepan and add the garlic. Cook for 2–3 minutes until starting to soften without taking on any colour. Add the vinegar and sugar and stir until the sugar has dissolved. Stir in the sweet and hot paprika.

Pour the sauce over the crisp potatoes and sprinkle with a little more sweet and hot paprika.

To finish the dish, put the meatballs into a large, deep frying pan, and cover with the sauce. Simmer gently for 5 minutes, or until the meatballs have heated through and the sauce has reduced a little.

Serve sprinkled with a little parsley, if using..
This recipe is from...
Recipes from this episode