Monkfish with mustard and cucumber sauce
Preparation time
less than 30 mins
Cooking time
10 to 30 mins

Preparation time
less than 30 mins
Cooking time
10 to 30 mins
Ingredients
For the cucumber
For the sauce
For the monkfish
Method
For the cucumber, peel and thinly slice the cucumber and place in a colander.

Mix it with the salt and press for an hour. Place a small plate or lid on the cucumber and put a heavy jar or can on top of that and set colander over a bowl to drain.

After a half-hour or so, squeeze as much liquid as possible from the cucumber and place in a bowl.

In a separate bowl mix together the sugar, vinegar and black pepper. Toss the cucumber slices in the vinegar mixture, coating well.

For the sauce, heat the stock, crème fraîche and mustard together then whisk in the butter piece by piece. Finally add the lemon juice.

For the monkfish, drizzle the monkfish fillets with olive oil. Heat a frying pan until hot, then add the fillets.

Add a knob of butter and continue to fry until the fish is cooked.

Squeeze over the lemon juice on the cooked fish.

Place the fish onto warmed serving plates along with the cucumber and sauce.
This recipe is from...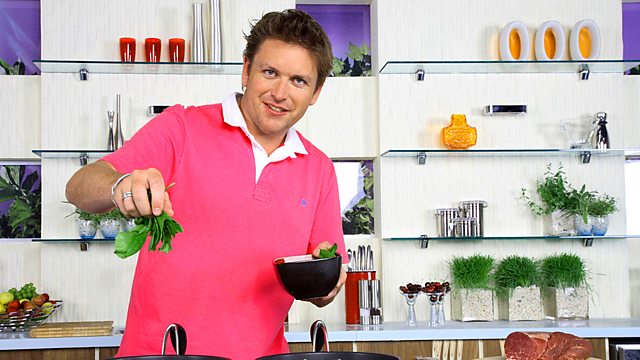 2007-16
Episode 149
Recipes from this episode