Monkfish satay, roast carrots, peanuts and lime
Sweet, sharp, spicy and nutty – this monkfish supper with a zingy satay sauce and roasted carrots is a riot of flavours and textures.


Ingredients
For the monkfish satay
For the roast carrots
Method
To make the satay, whisk the lime juice, honey, soy sauce, curry powder, peanut butter and coconut milk together in a bowl until combined. Put the monkfish in a dish and spoon over a little of the satay, making sure it is covered in the sauce. Leave to marinate in the fridge for 1 hour.

Put the rest of the satay sauce in a small pan and simmer over a low heat, stirring occasionally, until thick and smooth. Set aside to cool.

Preheat the oven to 180C/160C Fan/Gas 4.

Mix together the carrots, sugar, and white wine vinegar on a baking tray until the carrots are well coated and dot over the butter. Roast for 20 minutes, or until the carrots are soft and sticky, turning frequently to prevent them burning.

Meanwhile, heat a non-stick frying pan until very hot. Lightly oil the monkfish and place in the pan. Cook until the fish gets a nice, charred colour, then turn and fry for 6-7 minutes more, until cooked through. Move to a plate to rest.

To serve, put the monkfish in the hot oven for a few minutes to heat through, then carve each piece into three slices and arrange on two plates. Dress the carrots in the chilli, lemongrass, coriander and peanuts, and place next to the fish. Spoon over the satay sauce and garnish with half a lime for squeezing over.
Recipe Tips
You can also cook the monkfish on a barbecue. Heat the grill until it's very hot and cook as above.
This recipe is from...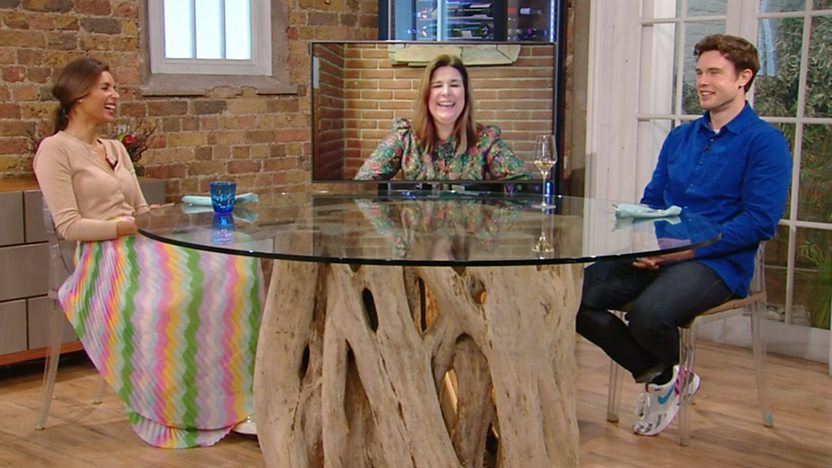 Saturday Kitchen
16/01/2021