Monkfish, mussel and prawn stew with sourdough (cioppino)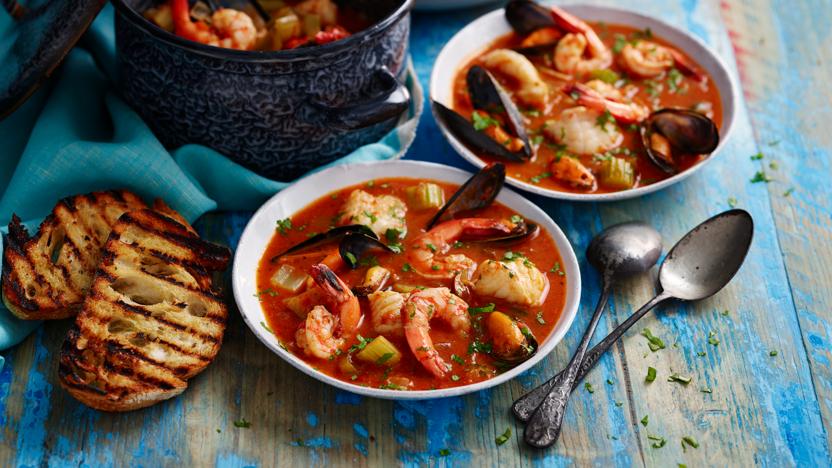 This cioppino, which literally means chopped seafood, is inspired by the oldest restaurant in California. There was an amazing variety of seafood but the important element was the chunky tomato base. They were generous enough to give me the recipe but, I confess, I had to cut out a few elements; mostly some seafood. The variety was simply too great for domestic shopping and purposes!
Method
Bring the stock to a simmer, add the prawn heads and shells and simmer for 20 minutes. Strain the stock into a clean bowl and set aside.

Bring the vinegar and sugar to the boil in a small saucepan and simmer until reduced by half. Set aside.

Heat the oil and butter in a large lidded saucepan. Stir in the garlic, onion, celery and green pepper and cook for 6–8 minutes or until soft. Add the white wine, salt, pepper, chilli flakes, tomatoes, fish stock and vinegar reduction. Simmer for 30 minutes, adding the oregano for the last 5 minutes.

Discard any mussels with broken shells and any that refuse to close when tapped. Add the prawns, cod and mussels, cover the pan with a lid and cook for 5 minutes.

Meanwhile, toast the sourdough on both sides and carefully singe slightly over a gas flame. Rub the toast with the cut-side of the garlic and drizzle with olive oil.

Before serving, discard any mussels that remain closed. Place a slice of the toast in each bowl, ladle in some stew and sprinkle with parsley.