Miso aubergine with noodles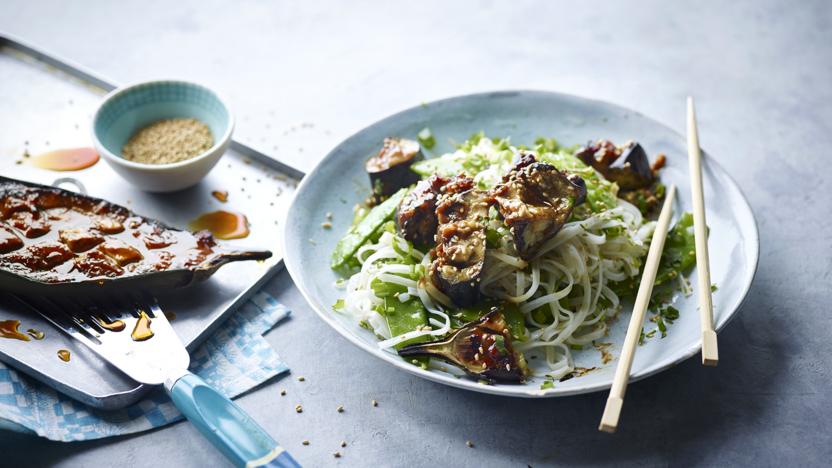 Miso is a brilliant ingredient made from soya beans, full of flavour and protein and a good addition to Japanese-influenced foods.

Each serving provides 491 kcal, 18.5g protein, 67g carbohydrates (of which 12.5g sugars), 13g fat (of which 2g saturates), 13g fibre and 2.7g salt.
Method
Bring a large saucepan of lightly salted water to the boil and cook the noodles according to the packet instructions.

Meanwhile, place the mangetout in a steamer or colander and set above the boiling water to steam with a lid on for 2 minutes. Drain the noodles and toss with the mangetout, spring onions, sesame oil and seeds, 1 tablespoon of lime juice and the coriander. Season with salt and pepper and set aside.

Heat the grill to high and line a baking tray with kitchen foil. Put the aubergine on the tray, skin-side up, and grill for 10 minutes, or until the skin has hardened and the flesh is soft.

Meanwhile, mix the miso, ginger, honey, soy sauce and 1 tablespoon of lime juice together in a small bowl.

Turn the aubergine over and push the miso mixture into the grooves. Grill for 5 minutes, flesh-side up, checking after 3 minutes that the miso is grilling evenly. It should be patched with brown but not burnt.

Cut the aubergine into thick slices and place on top of the noodles. Serve hot or at room temperature or divide between two lunch boxes.