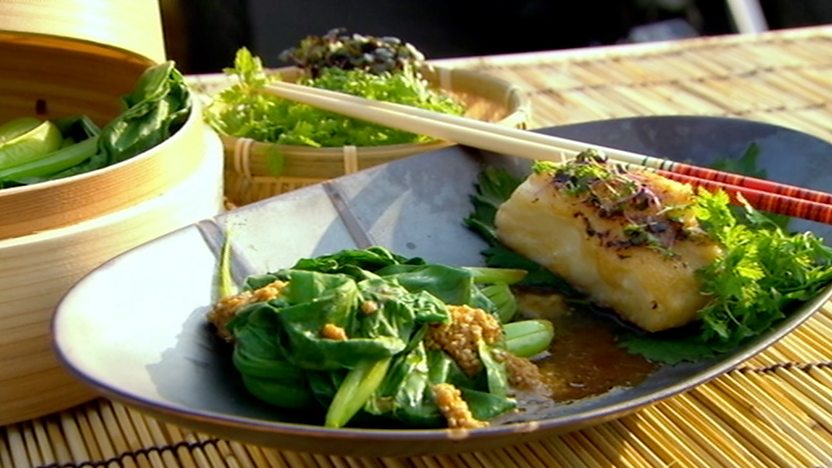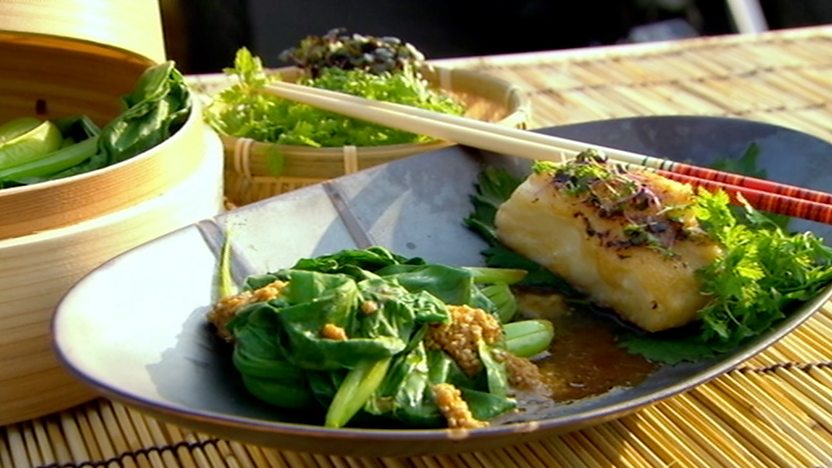 If you can't get hold of the deliciously meaty black cod fish, you can use a cheaper fish such as pollock. In the Hairy Bikers Far East programme Si and Dave didn't have an oven on location, so they fried the fish. It can be either baked or fried.

Ingredients
For the marinade
For the black cod
For the Chinese greens with sesame sauce
Method
Mix all of the marinade ingredients together and place in a non-metallic bowl.

For the black cod, add the fish to the marinade, cover with cling film and place in the fridge preferably overnight or a minimum of two hours.

Preheat the oven to 180C/350F/Gas 4 (160C fan).

Lightly oil a non-stick baking tray. Place the fish, skin-side down onto the baking tray.

Spoon over two tablespoons of the marinade and then bake for 10-12 minutes, depending on the thickness of fish.

Preheat the grill. Remove the fish from the oven, place the remaining marinade over the fish, place under the grill and cook until golden-brown.

For the Chinese greens with sesame sauce, heat a small non-stick frying pan and dry-fry the sesame seeds until just lightly golden-brown. Put into a pestle and mortar. Grind to nearly a paste, but still with some texture.

Add the sugar, soy sauce, dashi, and citrus juice. Give a good grind to incorporate all the flavours. Add a couple of sprinkles of Japanese sansho pepper.

Rinse the greens well, trim the base of the stems and cut the rest into bite-sized pieces.

Place a steamer on top of a pan of boiling water. Steam the broccoli for 1-2 minutes, or until tender. Transfer to a suitable serving dish and spoon over the sauce.

Serve the fish with the Chinese greens and with lime wedges and micro salad on the side.
Recipe Tips
To fry the fish, heat a medium non-stick frying pan with a fitted lid. Add three tablespoons of vegetable oil and heat. Place the fish skin-side down and cook for about three minutes. Put the lid onto the pan and steam for a further 3-4 minutes, or until cooked though - this depends on the thickness of you fish. Using a mini chefs' blow torch, gently brown the top until golden-brown.