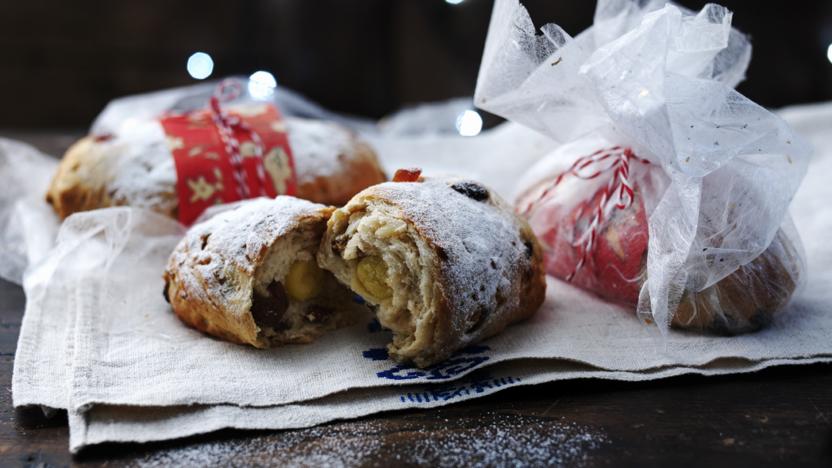 Wrap up edible Christmas gifts of delicious mini stollen. (These can be baked and frozen in advance.)
Method
Mix the dried fruits, cherries, almonds, lemon zest, nutmeg, vanilla extract and brandy together in a bowl. Cover with clingfilm and set aside.

Put the flour, yeast and sugar in a mixing bowl. Add the egg, 50g/2oz of the melted butter and the milk. Mix the ingredients together to form a dough, adding a further 1-2 tablespoons of milk if the dough is a little dry.

Turn the mixture out onto a lightly floured surface and knead for 10 minutes, or until smooth and elastic. Place in a lightly oiled bowl, cover with oiled clingfilm and leave to rise in a warm place for 1-1¼ hours, until the dough has doubled in size.

Turn the dough out on to a lightly floured surface. Gradually knead in the fruit mixture until it is evenly distributed through the dough. Cover with a damp tea towel and leave to rest for 20 minutes.

Preheat the oven to 180C/350F/Gas 4.

Divide the marzipan into six pieces and roll each one into a 10cm/4in log.

Knead the dough lightly for one minute. Divide into six pieces and roll each piece out into a rectangle. Place a marzipan log just off centre of each piece of dough, brush the edges with a little milk, then fold the dough over the marzipan and press to seal.

Arrange the stollen on baking trays, cover loosely with lightly oiled clingfilm and leave in a warm, draught-free place until doubled in size.

Bake the stollen, on the middle shelf of the oven for 20-25 minutes, or until risen and golden-brown. Cool on wire racks, then dust liberally with icing sugar.