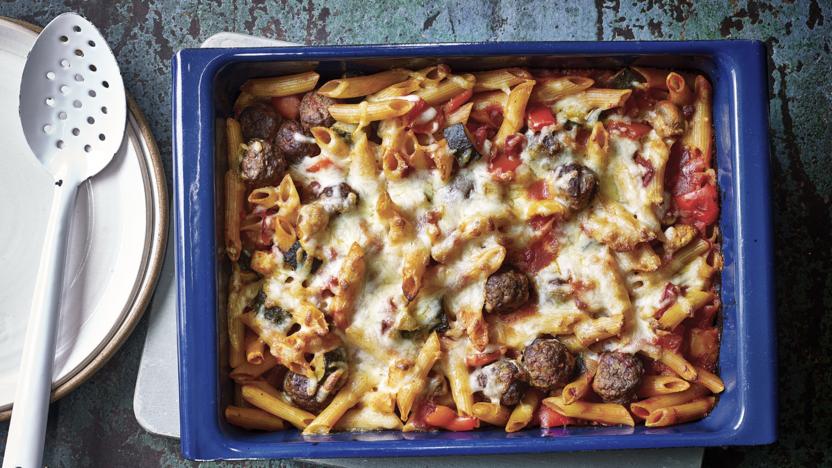 This meatball pasta bake is a super-easy family meal that uses a small amount meat but lots of veg. Swap the homemade meatballs for ready-made if you like.


Method
Mix the mince with the breadcrumbs, half the oregano, 4 tablespoons of cold water, a good pinch of salt and lots of pepper. Form into 16 small balls.

Heat 1 tablespoon of oil in a frying pan and fry the meatballs for 5 minutes, turning regularly.

Meanwhile, heat the remaining oil in a large frying pan and fry the onion, mushrooms, peppers and courgette for 8–10 minutes, or until softened and beginning to brown, stirring regularly. Add the garlic and cook for a few seconds more, stirring constantly.

Tip the tomatoes into the pan and stir in the tomato purée, stock, remaining oregano and the bay leaf. Add the meatballs and bring to a simmer. Cook for 15 minutes, stirring occasionally. Season with salt and lots of pepper.

Meanwhile, half-fill a large saucepan with water and bring to the boil. Add the pasta to the water and return to the boil. Cook for 10–12 minutes, or until tender, stirring occasionally

Preheat the grill to high. Drain the pasta and return to the pan. Add the tomato and meatball sauce and toss. Transfer to a warmed, 2-litre/3½-pint shallow ovenproof dish – a lasagne dish is ideal.

Sprinkle the cheddar over the top and place under the hot grill for 2–3 minutes, or until the cheese has melted, then serve.
Recipe Tips
Ready-grated mixed cheddar and mozzarella is ideal for this recipe, but you could also use coarsely grated cheddar only, or a mixture of other cheeses.