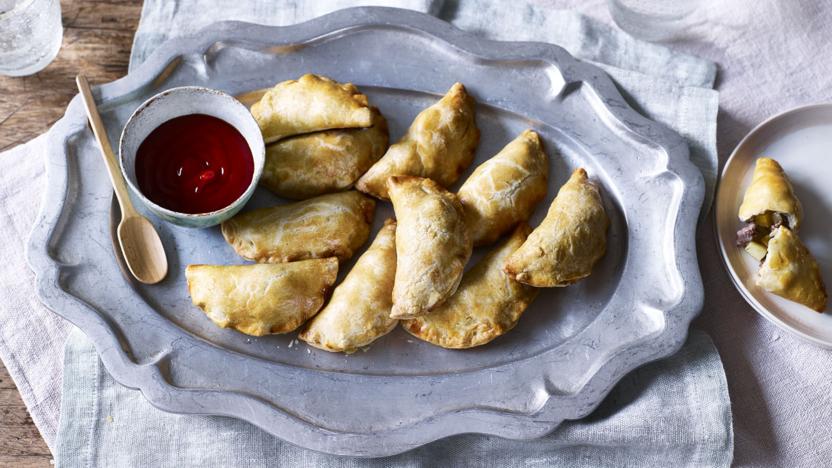 This traditional hand-held pie gets a mini makeover just in time for your street party or picnic.
Ingredients
For the pastry
250g/9oz strong white bread flour
60g/2¼oz lard
60g/2¼oz salted butter
80–90ml/2½fl oz–3fl oz iced water
1 free-range egg, beaten with 2 tsp milk, to glaze
For the filling
Method
Combine the flour, lard and butter in a large bowl and gently rub together with your fingertips until the mixture resembles fine breadcrumbs. Gradually work in enough water to bring the mixture together to form a smooth dough.

Turn out onto a clean work surface and knead into a smooth ball. Flatten out into a disc, wrap in cling film and put in the fridge for 2 hours until firm.

Meanwhile, combine the ingredients for the filling in a bowl and season with salt and plenty of black pepper.

Preheat the oven to 180C/160C Fan/Gas 4 and line a baking tray with baking paper.

Roll out the dough to the thickness of a pound coin and use a 10cm/4in cookie cutter to cut out 12 circles of pastry. Divide the mixture between the circles, fold the pastry in half, then crimp the edges to seal. Brush the pasties with the glaze, transfer to the lined baking sheets and bake for 30 minutes, or until golden.