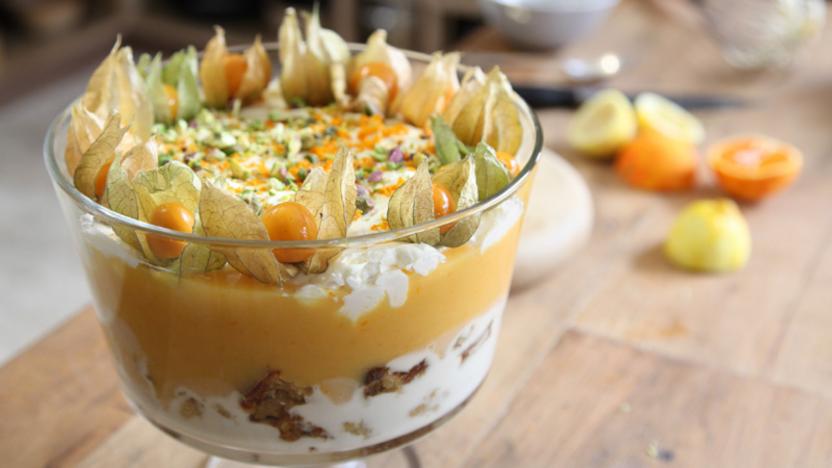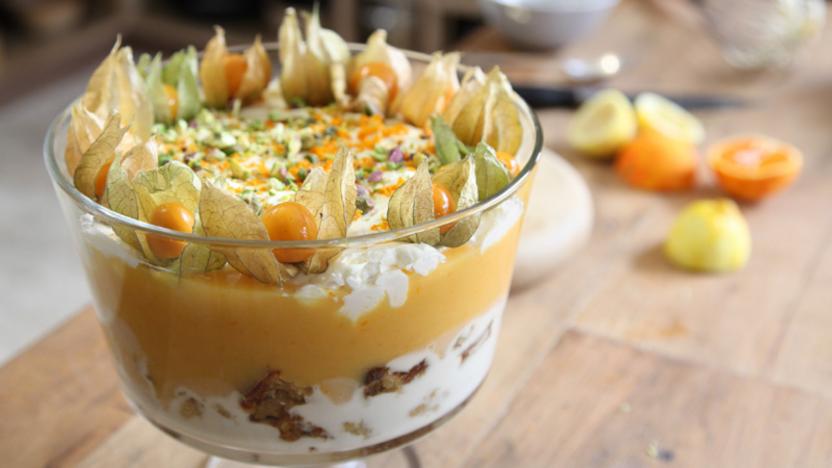 This is a truly special trifle that everyone will love. Making the sponge base and lemon curd means you can add your favourite festive flavours like mincemeat or clementine. The results are worth the effort. Make a day ahead if you prefer.
Ingredients
For the mincemeat sponge
For the curd
To serve
Method
You will need a shallow 23cm/9in cake tin, the base lined with baking parchment or greaseproof paper. Preheat the oven to 180C/350F/Gas 4.

Beat the butter and sugar in an electric mixer until pale and fluffy. In another bowl, mix the almonds and flour together and set aside.

Add the eggs to the butter and sugar, a little at a time, with the beater on slow. Turn the machine off and add the zest and a third of the almonds and flour, then turn the mixer on slow until the dry ingredients are incorporated, then add the second, and then the third lot, switching the machine off each time. If you do this too quickly you will end up with a heavy cake.

Finally, the machine still on slow, mix in the orange juice and the mincemeat. Transfer the mixture with a rubber spatula to the lined cake tin and bake for 35 minutes. Run a palette knife around the edge of the tin and turn out onto sugared greaseproof paper. Leave to cool.

For the orange and lemon curd, put the zest and juice, the sugar and the butter into a heatproof bowl set over a pan of simmering water, making sure that the bottom of the bowl doesn't touch the water. Stir with a whisk from time to time until the butter has melted.

Mix the eggs and yolks lightly with a fork then stir into the lemon and orange mixture. Let the curd cook, stirring regularly, for about 10 minutes until it is thick and custard-like. It should feel heavy on the whisk. Remove from the heat and stir occasionally as it cools.

Break the mincemeat sponge into pieces and put them in the bottom of a serving dish. Sprinkle with a little sweet wine or Marsala or dry sherry. Pour over the custard then place in the fridge, covered.

When the curd is cool, pour it over the custard and chill for an hour. Whip the cream, spoon on top, then decorate the top of the trifle with orange zest and physalis and a scattering of chopped pistachios.