Midweek tacos using batch-cooked mince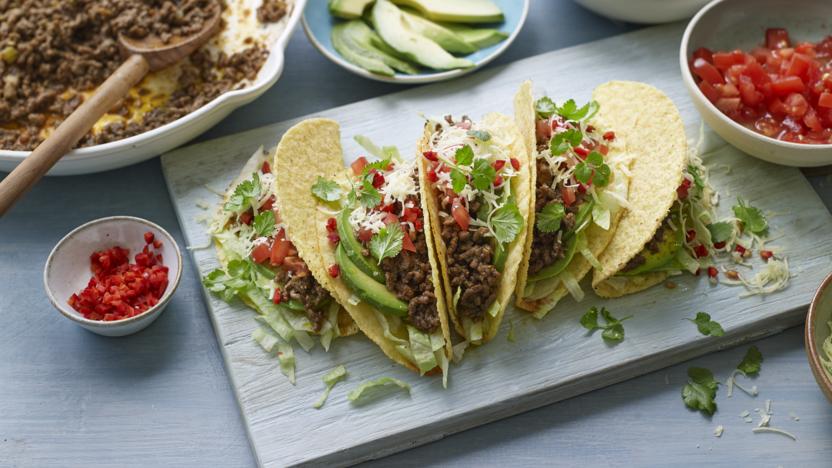 A basic mince recipe made in bulk for batch cooking and then used to make easy tacos. It's also great in burritos, cottage pies and chilli.

Ingredients
For the mince base
2 tbsp olive oil
1 large onion, finely chopped
2 large carrots, finely chopped
1 stick celery, finely chopped
1 large green pepper, de-seeded and finely chopped
4 garlic cloves, finely chopped
150g/5½oz mushrooms, finely chopped
1.5kg/3lb 5oz beef, pork, lamb, turkey or vegetarian mince
For the tacos
To serve
Method
For the mince base, heat the oil in a large frying pan or sauté pan over a medium heat, then add the onions, carrots, celery and peppers, stirring regularly until softened, this will take about 10 minutes. Add the garlic and cook for about 1 minute. Add the mushrooms and stir until wilted, then finally add the meat and brown all over (if you don't have a very large pan you will need to remove the vegetable mixture and fry the mince in batches). Season with salt and pepper. This can be frozen at this stage: divide into batches and cool completely before freezing.

For the tacos, if your mince base is frozen, defrost a little at room temperature or in the microwave (it doesn't need to completely thaw before cooking, just soften enough to break up in the pan).

Heat the oil in a large saucepan over a medium heat and add the garlic and spices and cook for about 30 seconds. Add the mince base, along with a splash of water and cook on a low heat, breaking it up as it defrosts. Once defrosted, increase the heat and cook until the mince is piping hot.

Serve with the taco shells, lettuce, cheese, tomatoes, avocado, chilli and coriander.
Recipe Tips
Any left-over mushrooms can be frozen.
Allow the mince base to cool before you portion it up and freeze.
If you don't have tacos you can use soft tortillas or homemade flat bread.
Any salad ingredients can be put on top, cucumber, spring onions etc.
This recipe is from...
Recipes from this episode