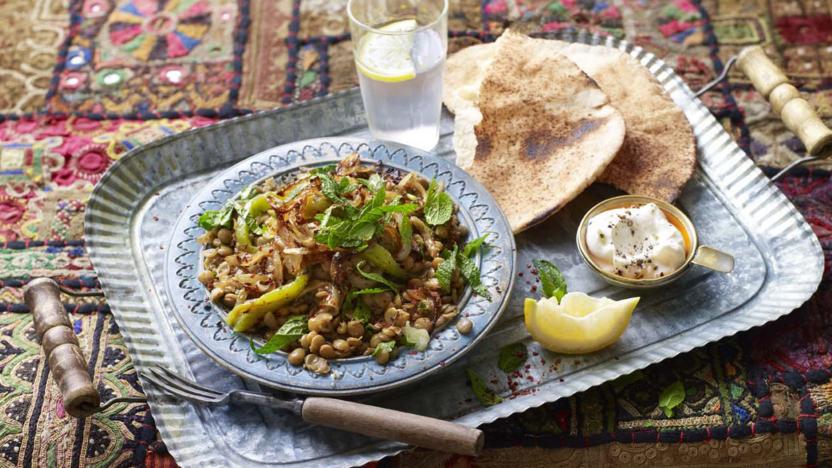 Bring the enchanting flavours of the Middle East to a simple pot of lentils. Top with fresh herbs and a squeeze of lemon for a moreish meal.
Method
Heat the oil in a large frying pan and add the onions. Cook over a low heat and allow the onions to soften, sweeten and turn gold. This may take about 20 minutes. Do not rush this part, it is important that the onions are sweet.

Set aside half the onions, turn up the heat and add the garlic, cumin and chilli. Stir and when you can really smell the garlic add the lentils and enough water to cover them by 5cm/2in.

Bring to the boil and then reduce to a simmer. Cover the pan and cook until the lentils soften. You may have to top up the water if the lentils look dry but don't add too much, you don't want to drain away any delicious juices later.

Meanwhile, heat the grill to high. Grill the pepper quarters skin-side up until the skin is blistered and blackened then transfer to a resealable plastic bag. Set aside for 5-10 minutes, or until the skin has loosened from the pepper flesh. Once the peppers are cool enough to handle peel off the skins. Thinly slice the peppers and set aside.

Once the lentils are really soft, and this can take up to an hour, season with salt, pepper and lemon juice. Stir in the coriander leaves and garnish with the remaining sweet fried onions, grilled peppers and mint.

Serve with warm flatbreads and a dollop of Greek yoghurt.