Baked potatoes with Middle Eastern beans and greens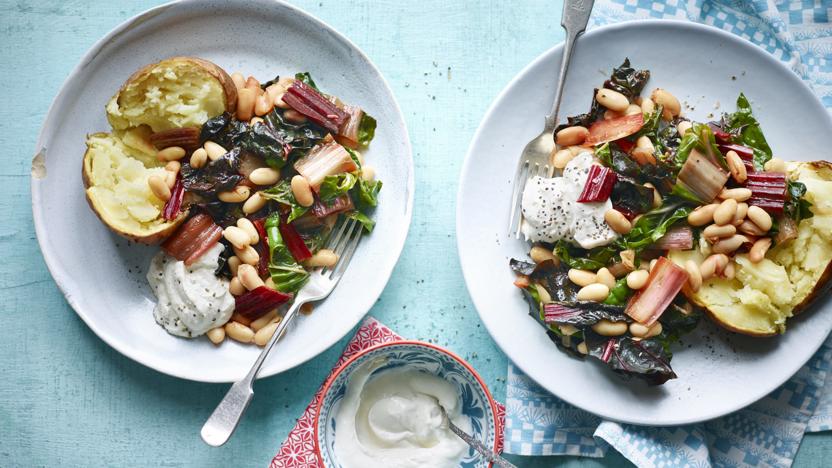 Filling your plate with vegetables is a nutritious way to feel full without piling on the calories. Here they are drizzled with an easy dressing of tahini and Greek-style yoghurt. If you're not on a diet, try a drizzle of pomegranate molasses in place of the lemon juice. This is a slightly over 500 calories, so could be paired with lower calorie breakfast and dinner so your daily calories don't exceed 1200–1500.

Each serving provides 545 kcal, 22g protein, 62.5g carbohydrates (of which 7.5g sugars), 19g fat (of which 3.5g saturates), 16.5g fibre and 0.2g salt.
Ingredients
For the dressing
Method
Preheat the oven to 200C/180C Fan/Gas 6.

Bake the potatoes for 1½ hours, or until tender.

Meanwhile, heat the oil in a lidded frying pan over a medium heat. Add the garlic and chard. Stir and season, then add 50ml/2fl oz water.

Place a lid on the pan, turn down the heat and cook for 3–4 minutes, stirring halfway through. Stir in the beans and cumin, cover and cook until the stalks are tender, adding a dash more water if needed.

Meanwhile, to make the dressing, mix together the ingredients with a pinch of salt and set aside.

Split each baked potato in half, top with the beans and chard, a squeeze of lemon juice and drizzle over the dressing.