Microwave chicken and chorizo jambalaya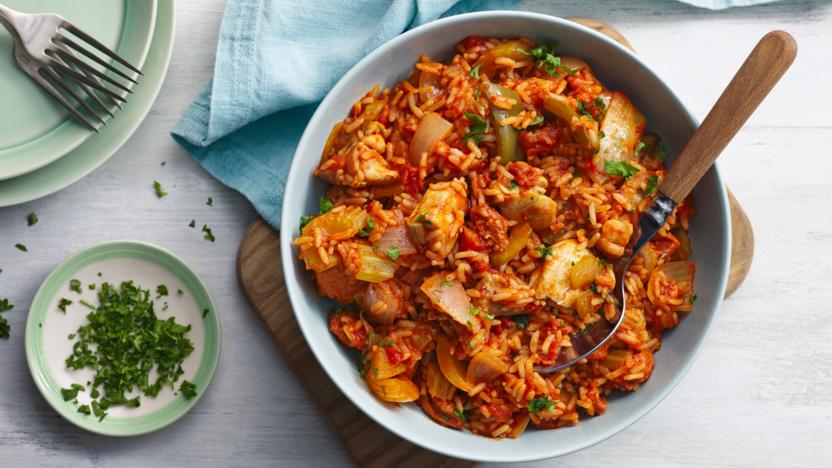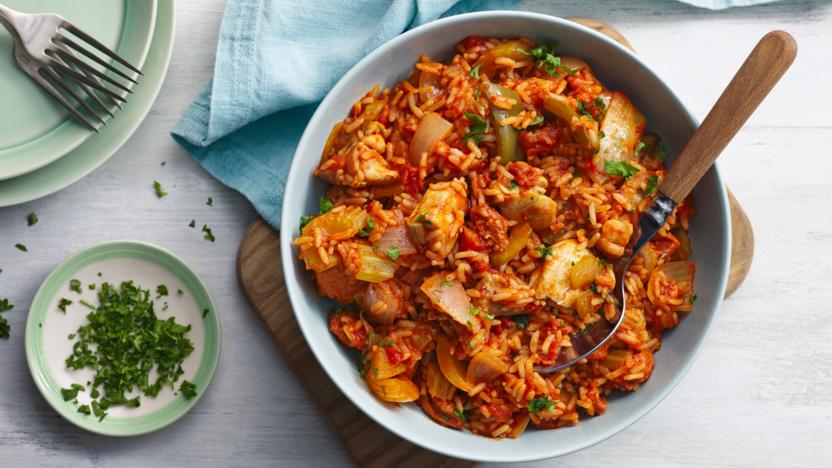 Ingredients
200ml/7fl oz boiling water
200g tin chopped tomatoes
½ onion, roughly chopped
1 celery stick , roughly chopped
½ green pepper, seeds removed, roughly chopped
1 garlic clove, grated or crushed
½ tsp hot sauce (optional)
2 tsp tomato purée
1½ tsp Cajun seasoning
125g/4½oz easy-cook long grain rice
50g/1¾oz cooking chorizo, skinned and roughly chopped
2 boneless chicken thighs, skin removed, roughly chopped
1 tbsp roughly chopped fresh parsley
Method
Pour the water into a heatproof jug, add the tinned tomatoes and stir well.

Tip the onions, celery and pepper into a large microwaveable bowl, then add the garlic, hot sauce (if using), tomato purée and Cajun seasoning and mix together well.

Add the rice and stir through so it's coated in all the vegetables, then add the chorizo and chicken. Pour in the tomato mixture and stir well.

Cover with cling film and cook in the microwave on high for 6 minutes (900 watt) or 8 minutes (800 watt).

Remove and stir well, then cover again and cook for another 7 minutes (900 watt) or 9 minutes (800 watt).

Remove and leave to stand for 5 minutes until the rice is tender, the liquid absorbed and the jambalaya piping hot.

If the rice is not cooked fully, stir again, cover and cook on high for 2 more minutes, then check again. Repeat, if necessary, until the rice, chicken and chorizo are cooked and the jambalaya is piping hot.

Stir in half the parsley, then divide between serving bowls, top with the remaining parsley and serve.