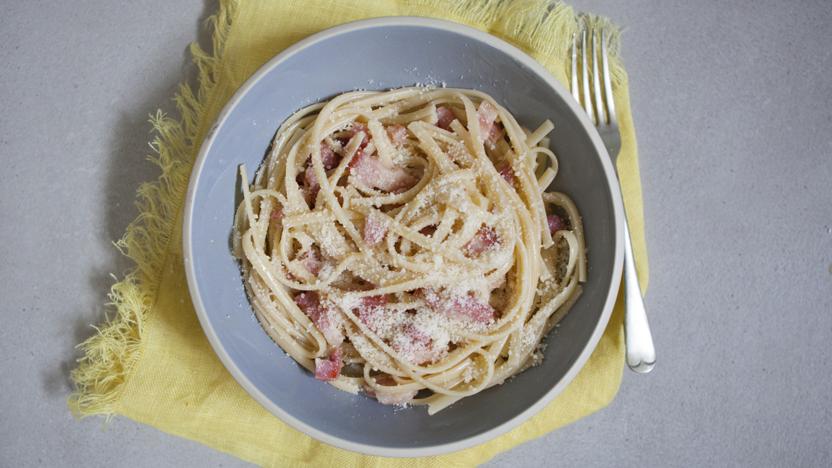 A super easy carbonara only made in the microwave! Perfect for last minute work lunches when you forgot to prepare ahead of time.

Recipe tested using a 800W microwave.
Method
Microwave the pancetta in a microwavable bowl for 2 minutes and set aside. The pancetta should have released its oils and started to brown.

Snap the pasta in half, then place in a microwaveable container with the salt. Pour over boiling water until completely covered. Microwave for the cooking time suggested on the packet plus an extra 4 minutes. Stir every 2–3 minutes, breaking up any pasta that is sticking together. Add more boiling water if necessary.

Meanwhile, stir the egg, Parmesan and black pepper into the pancetta until completely combined. When the pasta has cooked, stir in 1–2 tablespoons of the pasta cooking water. Drain the remaining pasta water.

Tip the spaghetti into the egg mixture and stir well. Microwave for 30 seconds or until warmed through, but be careful not to overcook the eggs – you want a smooth sauce, not scrambled eggs. Stand in the microwave for 1 minute before eating.
Recipe Tips
You can add some frozen peas to the pasta water for a pop of colour.