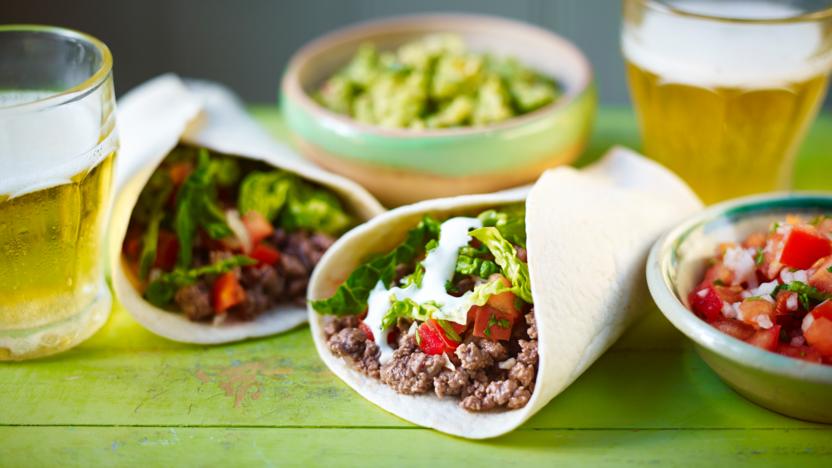 This beef burrito is a hearty, healthy alternative to takeaways. It's mostly an assembly job of all your favourites. Feel free to swap in some ready-made elements as you need.
Ingredients
For the guacamole
For the tomato salsa
For the burritos
To serve
Method
For the guacamole, place the avocados in a bowl with the garlic, onion and chilli and mash together roughly with a fork. Stir in the lime juice and season to taste with salt and freshly ground black pepper. Set aside.

To make the tomato salsa, mix the tomatoes, onion and coriander in a bowl. Set aside.

To make the burrito filling, heat the oil in a pan and fry the onion for 1-2 minutes until softened but not browned.Add the chopped steak or beef mince to the pan with the garlic and chilli and stir fry for one minute.

Add a pinch of cayenne pepper and a dash of Worcestershire sauce and Tabasco sauce and cook for another minute, or until cooked to your liking, then remove from the heat.

To assemble the burrito, place the warmed tortillas on serving plates and divide the steak between them. Top with salsa and lettuce and fold to enclose the filling.

Serve the burrito with rice, grated cheese, soured cream and a spoonful of the guacamole.
Recipe Tips
If you want to make this steak burrito gluten-free, use corn tortillas instead, and make sure you use gluten-free Worcestershire sauce.
To make them dairy-free, leave out the cheese and sour cream, or replace with dairy-free alternatives such as coconut yoghurt.