Veggie chilli tortilla baskets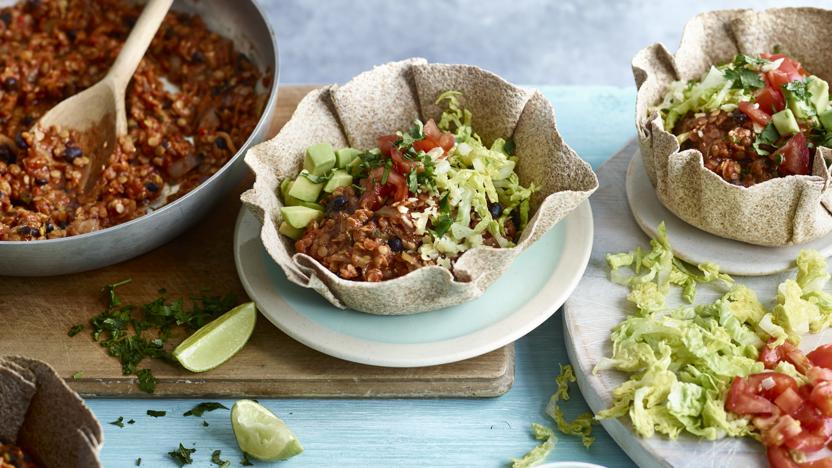 Make our easy veggie chilli into something fun and impressive by serving up in crisp tortilla bowls.

This recipe makes double portions of the stew so you can make the next dinner really quickly. Each serving provides 906 kcal, 45.5 protein, 108g carbohydrates (of which 25.5g sugars), 27.5g fat (of which 8.5g saturates), 22.5g fibre and 2.3g salt.
Ingredients
For the stew
For the toppings
Method
Preheat the oven to 200C/180C Fan/Gas 6.

Put the red lentils in a large bowl and cover with water. Swish the water around then leave the lentils to soak for 5 minutes.

Heat the oil in a large frying pan or casserole dish over a medium heat. Add onion and fry for 3–4 minutes until just softened.

Add the garlic, chilli, cumin, coriander, paprika and black pepper and fry for 2 minutes until fragrant.

Drain the lentils through a sieve then rinse under running water.

Add the tomato purée and fry for 1 minute. Add the drained lentils, the passata, stock cube and 600ml/ 1 pint water. Stir well and bring to the boil.

Reduce the heat, partially cover the pan with a lid and simmer for 15 minutes, stirring occasionally, until the lentils are nearly tender.

Add the grated courgette and black beans, bring back to the boil, then reduce to a simmer, cover and cook for 10 minutes until everything is tender and thickened slightly.

Meanwhile, put the avocados into a bowl with the lime juice and two thirds of the coriander and mix well.

Press a tortilla wrap into an ovenproof bowl so it takes the shape of a bowl. Spray with oil spray and bake in the oven for 7–8 minutes until the wraps have hardened. Repeat with each tortilla.

Remove half the mixture from the pan and transfer to a sealable container. Set aside until room temperature then transfer to the fridge. This can be kept for 3 days.

Spoon the remaining mixture into each of the tortilla baskets. Serve with lettuce, tomato a dollop of avocado, cheese and a scatter of fresh coriander.
This recipe is from...
Recipes from this episode