Mexican fish and sweet potato salad
This Mexican feast combines spiced fish cooked in banana leaves with a fresh and crunchy salad.
Ingredients
For the salsa
For the fish
For the dressing
For the salad
Method
To make the salsa, combine all the ingredients in a bowl. Cover and refrigerate for at least 2 hours, until the onion begins to turn pink.

To make the fish, toast the spices in a frying pan over a medium heat, until fragrant. Allow to cool and grind to a powder with the annatto seeds.

Blend the ground spices with the garlic, chipotle, oregano, orange juice, cider vinegar and olive oil in a food processor, until smooth.

Put the fish in a shallow dish and coat in the mixture. Cover and refrigerate for at least 2 hours, or overnight.

Meanwhile, combine all the salad dressing ingredients in a bowl and season with salt and pepper.

To make the salad, preheat a barbecue or griddle pan. Preheat the oven 170C/150C Fan/Gas 3.

Grill the sweet potato for 3 minutes on each side, until slightly charred and cooked through. Put straight into the salad dressing.

Toast the tortilla slices in the oven for 5–7 minutes, until crisp.

Mix the tortilla slices with the remaining salad ingredients and toss in the dressing.

To cook the fish, soak the banana leaves in hot water, or hold over the barbecue, until softened.

Wrap each fish fillet in a banana leaf and secure with cocktail sticks. Put the parcels on the barbecue or griddle pan for 5 minutes on each side. Leave to rest for a few minutes.

To serve, put the fish parcels on four plates with the salad. Open the parcels at the table and top with the salsa.
Recipe Tips
If you can't get hold of banana leaves, wrap the fish in kitchen foil before cooking.
This recipe is from...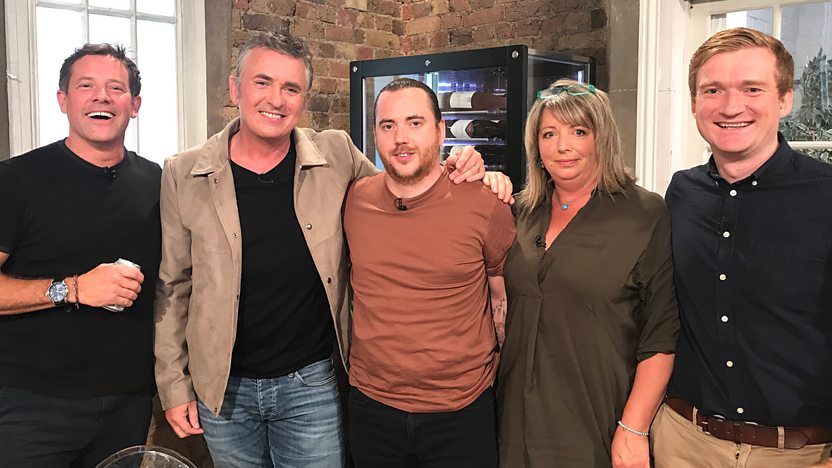 Saturday Kitchen
03/08/2019