Mesquite chicken with grilled peach salad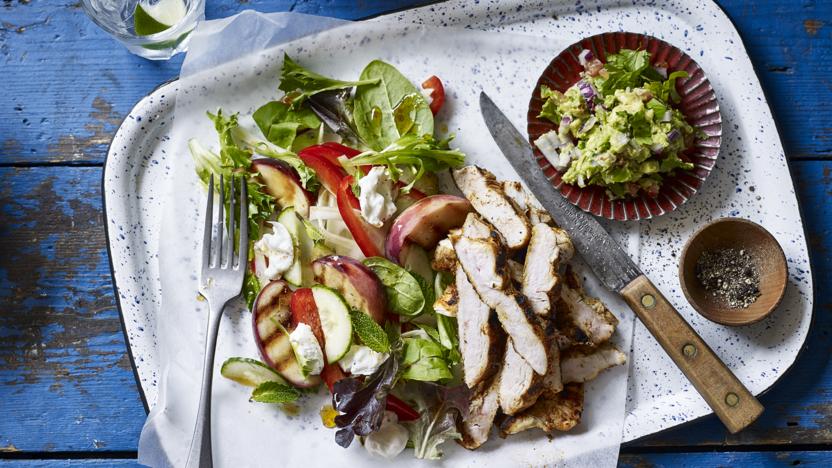 This summery sweet and smoky chicken salad with guacamole makes a hearty lunch or an exciting option for any barbecue or summer party. Don't be put off by the long list of ingredients - they're mostly in your store cupboard.
Ingredients
For the mesquite chicken
For the guacamole
For the salad
For the vinaigrette
Method
For the Mesquite chicken, mix the paprika, cumin, garlic powder, onion powder, mustard powder, sugar, rosemary, oregano, bay leaf and salt in a bowl. Stir in the olive oil. Add the garlic, lime juice, lime zest and honey.

Coat the chicken in the spice rub and leave to marinate for 30 minutes.

Preheat a grill or barbecue to hot. Remove the chicken from the marinade, scraping off any excess (this is particularly important if using the barbecue as the drips will cause flaming). Grill the chicken for 8–10 minutes, turning regularly. Check that the chicken is cooked through (the juices should run clear with no trace of pink when the thickest part of the meat is pierced with a skewer).

Meanwhile, for the guacamole, put the onion in a bowl, cover in cold water and leave to stand for 30 minutes. Drain. Put the lime juice, lime zest ½ tsp sea salt and cumin into a bowl. Add the avocado, tomato, chilli, coriander and onion. Stir to combine and season to taste with salt and pepper.

For the salad, preheat a griddle pan and griddle the peach quarters for 2–3 minutes on each side. Remove and leave to cool. Toss the spring onions in the oil and grill for 2–3 minutes on each side until, softened and lightly charred. Cut into sections on the diagonal. Arrange the salad leaves in a large platter and top with the fennel, pepper and cucumber. Arrange the peach slices and spring onions over the salad then sprinkle over the chilli.

Whisk all of the vinaigrette ingredients together in a jug and season with salt and pepper. Drizzle the vinaigrette over the salad and scatter over the burrata. Finally, sprinkle over the mint leaves. Serve with the mesquite chicken and guacamole.
This recipe is from...
Recipes from this episode