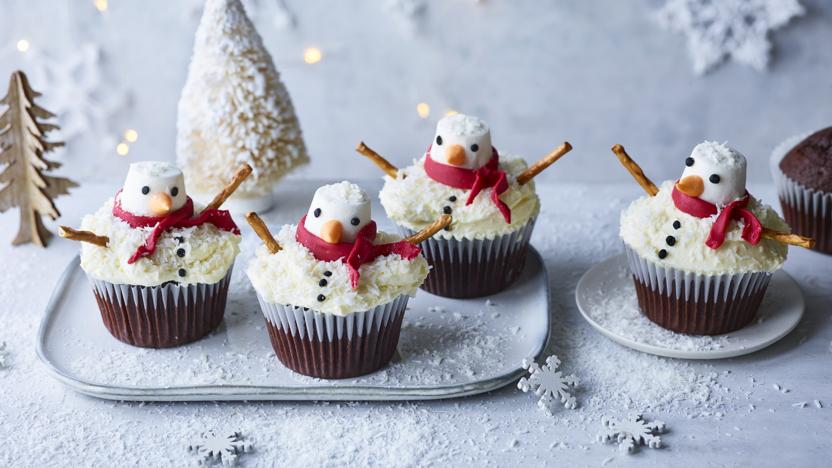 Cupcakes are perfect for kids and adults to make this Christmas season. Keep a steady hand piping the eyes and mouth on these super-cute snowman cupcakes.
Ingredients
For the cupcakes
For the buttercream
To decorate
Method
Preheat the oven to 170C/160C Fan/Gas 3½ and line a 12-hole muffin tin with paper cupcake cases.

Sift the sugar, flour, cocoa, baking powder, bicarbonate of soda and salt into a large mixing bowl. Stir in the sunflower oil, eggs and soured cream until smooth. Add the boiling water and beat again until silky smooth.

Scoop the batter into a jug and pour evenly between the paper cupcake cases. Bake for 20–22 minutes until well risen and a wooden skewer inserted into the middle of the cakes comes out clean. Leave to cool in the tin for 5 minutes, then transfer to a wire rack to cool completely.

To make the buttercream, beat the butter until pale and light, then gradually stir in the icing sugar and milk until smooth.

Make the snowman noses with 25g/1oz of the fondant icing. Add tiny dots of orange food colouring paste using a wooden skewer and knead until completely orange. Roll into 12 small carrot shapes about 1cm/½ in long. Leave to dry for 30 minutes.

Tint the remaining icing red using the food colouring paste. Dust a work surface with icing sugar and roll into a neat 12cm/4½ in x 6cm/2½ in rectangle. Slice into 12 strips about ½ cm wide, to make the snowman scarves.

Use the black writing icing to draw eyes and a mouth onto each marshmallow and stick an icing carrot just below the eyes.

Spread the buttercream on top of each cake and press a marshmallow into the icing. Scatter over the desiccated coconut and push two prezel halves into each side of the cupcake for arms. Pipe black icing buttons onto the buttercream and wrap a red scarf around each marshmallow.