Roasted vegetables three ways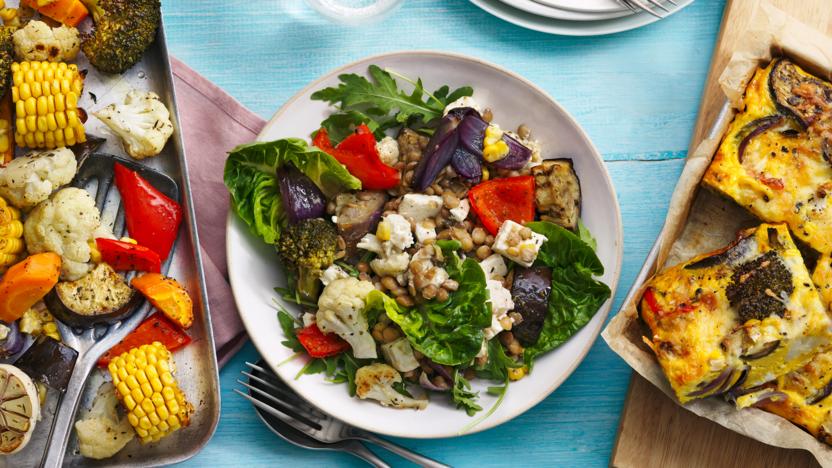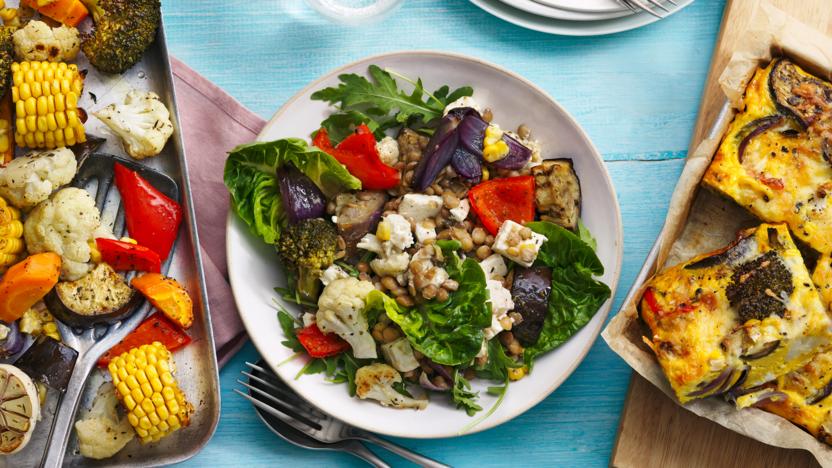 Roast a tray of vegetables when you have the time and keep them in the fridge to turn into delicious nutritious meals in minutes. Eat them as a side or follow our easy recipes for a tasty salad or an oven-baked frittata.

Ingredients
For the roasted vegetables
For the roasted vegetable and lentil salad
For the roasted vegetable frittata
Method
To make the roasted vegetables, preheat the oven to 220C/200C Fan/Gas 7.

Divide the vegetables between two large baking trays and scatter the garlic, dried oregano and plenty of freshly ground black pepper over the top. Drizzle with the olive oil then toss together until everything is coated in herby, garlicky oil.

Roast for 25 minutes until the vegetables are slightly charred around the edges and tender. Remove from the oven and serve or follow the next steps to turn them into a salad or frittata.

To make the salad, place a third of the roasted vegetables in a salad bowl and add the rest of the ingredients. Toss well to combine and season with salt and pepper, then serve.

To make the frittata, set aside a third of the roasted vegetables to cool and turn the oven down to 200C/180C Fan/Gas 6. Line a 20cm/8in square baking tray with baking paper.

Cut the corn kernals from the cob and scatter into the prepared tray with the other vegetables.

Put the eggs in a large mixing bowl, add the milk and season with salt and pepper. Mix well then pour the eggs over the vegetables in the tray. Scatter over the cheese then bake for 20 minutes, or until golden and just set. Cut into slices and serve straight away or cold.