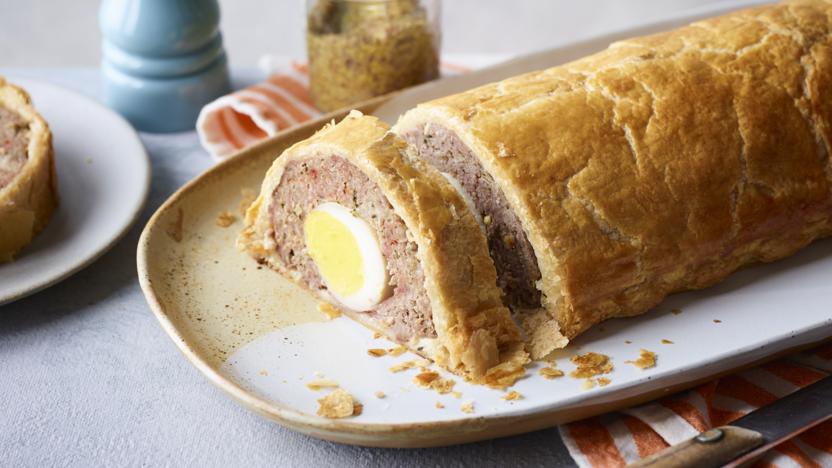 Meatloaf-meets-Wellington-meets-sausage-roll and with a line of hard-boiled eggs hidden inside.


Method
Preheat the oven to 200C/180C Fan/Gas 6.

Put the mince, sausagemeat, chilli flakes, salt, garlic, onion and breadcrumbs into a bowl and mix together with your hands. Add the parsley and mix until you have flecks of green all through the meat mixture.

Lay two long lengths of cling film on your worktop, one overlapping the other. Turn the meat mixture on to it and pat it out with damp hands into a rectangular shape about 30x25cm/12x10in. Line up the hard-boiled eggs in a row down the centre of the rectangle, short end to short end. With the aid of the cling film, create a large sausage shape. The eggs should be encased by the meat, rather like a long Scotch egg. Twist the ends of the cling film and put the roll into the fridge.

Meanwhile, roll out the pastry to about 35x35cm/14x14in and 5mm/¼in thickness and brush the surface with the yeast extract mix. Remove the meat roll from the cling film and place lengthways on the rolled-out pastry, just off centre.

Bring the larger side of the pastry over the meat roll, then pinch the edges together to close. Crimp all the way round.

Brush the pastry with the beaten egg and place on a baking tray. Put it into the preheated oven and bake for about 1 hour, or until the pastry is golden-brown and the roll is cooked through.
Recipe Tips
If you want to get ahead, you can prepare all this the night before and bake it the next day. After brushing the roll with the beaten egg, wrap it in cling film and place it in the fridge on the baking tray overnight. The following day, preheat the oven to 200C/180C Fan/Gas 6, remove the cling film, and cook the roll for 45 minutes. Reduce the temperature to 180C/160C Fan/Gas 4 and bake for a further 30 minutes, or until cooked through.
This recipe is from...
Recipes from this episode